Uncemented Total Hip Replacement with impaction bone grafting in Protrusio Acetabuli in AVN hip
Singh v

Jain P

Bhinde S

Agrawal A
Keywords:
Protrusio Acetabuli, Morselised Bone Graft, Uncemented Total Hip Replacement
Abstract
Background and Aim: Protrusio acetabuli is a central acetabular defect resulting from migration of femoral head medial to Kohler's line. Idiopathic central displacement of femoral head within the acetabulum is quite rare. However, it may be seen in arthritic hips secondary to rheumatoid arthritis, ankylosing spondylitis, previous trauma, osteomalacia, etc. Primary Total Hip Replacement (THR) in such cases is difficult because of the deficient medial bone, decreased peripheral bony support to the acetabular component and proximal and medial migration of the joint centre. Several techniques described previously in the surgical management of protrusio acetabuli include cemented acetabular components with cement alone or in association with morselized bone graft to reconstruct the acetabulum. However, cement has high rates of migration and loosening of cemented acetabular components in young patients leads to more revision surgeries within the first decade of implantation. The purpose of the study is to describe the technique and results of using impacted morselized bone graft with a porous coated cementless acetabular component in patients with protrusio acetabuli.
Material and methods: A total of 20 primary THR's (10 unilateral and 5 bilateral) in 15 patients (8 females and 7 males) with protrusio acetabuli were performed between 2018 and 2022, out of which 4 had mild,7 had moderate and 9 had a severe grade of protrusion.
Results: A total of 10 hips were affected by rheumatoid arthritis, 3 by ankylosing spondylitis and 7 had unknown etiology. After the surgery, all bone grafts had united by the sixth month with no perceptible change in acetabular component position in any case. The mean preoperative Harris Hip Score was 48 which improved to 90 at the latest follow-up10 hips (50%) had excellent,8 hips (40%) had good, and 2 hips (10%) had fair results. There was no dislocation.
Conclusion: The use of impacted morselized autograft with a cementless porous acetabular component is a good technique of restoration of hip biomechanics and sound fixation in cases of protrusio acetabuli.
Downloads
Download data is not yet available.
References
1. Ries MD. Total hip arthroplasty in acetabular protrusio. Orthopedics. 2009 Sep;32(9):orthosupersite.com/view.asp?rID=42836. doi: 10.3928/01477447-20090728-12. PMID: 19751015.
2. Martin CT, Heiner AD, Baer TE, Pugely AJ, Noiseux NO. Protrusio After Medial Acetabular Wall Breach in Total Hip Arthroplasty. Iowa Orthop J. 2015;35:99-107. PMID: 26361450; PMCID: PMC4492152.
3. Gerber SD, Harris WH. Femoral head autografting to augment acetabular deficiency in patients requiring total hip replacement. A minimum five-year and an average seven-year follow-up study. JBJS. 1986 Oct 1;68(8):1241-8.
4. Zhen P, Li X, Zhou S, Lu H, Chen H, Liu J. Total hip arthroplasty to treat acetabular protrusions secondary to rheumatoid arthritis. Journal of orthopaedic surgery and research. 2018 Dec;13(1):1-7.
5. Sotelo-Garza A, Charnley J. The results of Charnley arthroplasty of the hip performed for protrusio acetabuli. Clinical Orthopaedics and Related Research®. 1978 May 1(132):12-8.
6. Greig, Danielle MD; Hsiue, Peter P. MD; Chen, Clark J. BS; Trikha, Rishi MD; Khoshbin, Amir MD; Stavrakis, Alexandra I. MD. Outcomes of Total Hip Arthroplasty in Patients With Acetabular Protrusio. JAAOS: Global Research and Reviews: July 2020 - Volume 4 - Issue 7 - p e20.00121
7. Tom J. J. H. Slooff, Rik Huiskes, Jim van Horn & Albert J. Lemmens (1984) Bone grafting in total hip replacement for acetabular protrusion, Acta Orthopaedica Scandinavica, 55:6, 593-596, DOI: 10.3109/17453678408992402
8. Zwartele RE, Witjes S, Doets HC, Stijnen T, Poll RG. Cementless total hip arthroplasty in rheumatoid arthritis: a systematic review of the literature. Arch Orthop Trauma Surg. 2012;132:535–46.
9. Mullaji AB, Shetty GM. Acetabular protrusio: surgical technique of dealing with a problem in depth. The bone & joint journal. 2013 Nov;95(11_Supple_A):37-40.
10. Mohanty A, Parida S, Biswas R, Mohanty A. Evaluation of Uncemented Total Hip Arthroplasty in Acetabular Protrusio.
11. Garcia-Cimbrelo E, Diaz-Martin A, Madero R, Munuera L. Loosening of the cup after low-friction arthroplasty in patients with acetabular protrusion: the importance of the position of the cup. The Journal of bone and joint surgery. British volume. 2000 Jan;82(1):108-15.
12. Pereira GC, Kubiak EN, Levine B, Chen FS, Di Cesare PE. Cavitary acetabular defects treated with morselized cancellous bone graft and cementless cups. International orthopaedics. 2007 Aug;31(4):445-50.
13. Rosenberg WW, Schreurs BW, Malefijt MC, Veth RP, Slooff TJ. Impacted morsellized bone grafting and cemented primary total hip arthroplasty for acetabular protrusion in patients with rheumatoid arthritis: an 8-to 18-year follow-up study of 36 hips. Acta Orthopaedica Scandinavica. 2000 Jan 1;71(2):143-6.
14. Krushell RJ, Fingeroth RJ, Gelling B. Primary total hip arthroplasty using a dual-geometry cup to treat protrusio acetabuli. The Journal of arthroplasty. 2008 Dec 1;23(8):1128-31.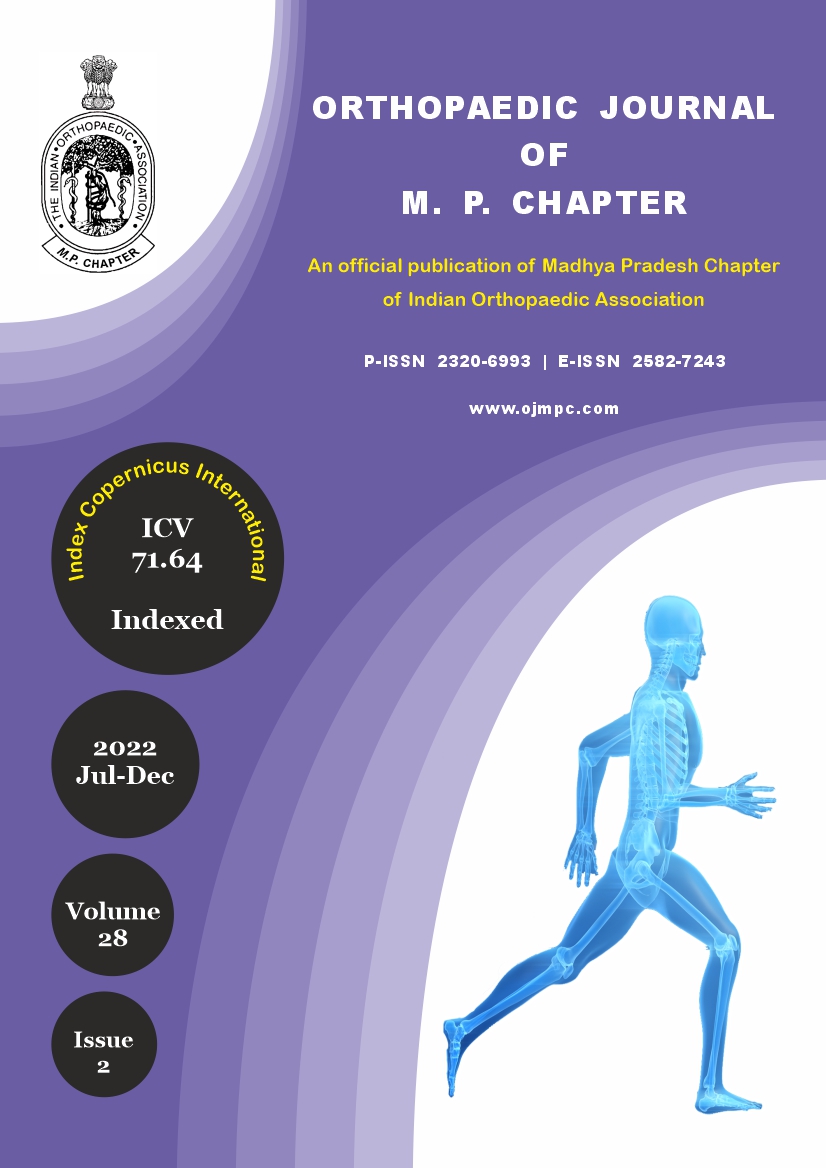 How to Cite
1.
Singh V, Jain P, Bhinde S, Agrawal A. Uncemented Total Hip Replacement with impaction bone grafting in Protrusio Acetabuli in AVN hip. ojmpc [Internet]. 2022Dec.31 [cited 2023Dec.7];28(02):60-4. Available from: https://ojmpc.com/index.php/ojmpc/article/view/160