A comparative study of outcome of distal radius fracture frykman type (IV-VIII) treated with distractor fixation versus volar plate
Bhinde S

Department of Orthopaedics, Gajra Raja Medical College, Gwalior, Madhya Pradesh, India

Bajoria R S

Department of Orthopaedics, Gajra Raja Medical College, Gwalior, Madhya Pradesh, India

Kaushal A

Department of Orthopaedics, Gajra Raja Medical College, Gwalior, Madhya Pradesh, India
Keywords:
Volar locking plate, distractor, distal end radius fracture, frykman type IV
Abstract
Background: Comminuted Distal radius fracture is a common injury with a variety of operative and non-operative management options. There remains debate as to the optimal treatment for a given patient and fracture. Our aim was to compare the functional outcome of patients of distal radius fractures treated with a volar locking plate fixation or wrist spanning distractor.
Method: This prospective randomized study comprised 30 patients with displaced intra-articular (Frykman type IV-VIII) distal end radius fractures treated with distractor and 30 patients treated with volar locking plates. The patients were followed up at 2nd week,1 month,6 months and 1 year after surgery. The assessment of pain, range of motion, grip strength and activity was done at each follow-up visit and scored according to the Green and O'Brien scoring system.
Results: At the end of 1 year, in volar plate group out of 30 patients, excellent result was achieved in 04 patients (13%), good in 24 patients (80%), fair in 02 patients (7%). No poor outcome seen. In distractor fixation group, out of 30 patients, excellent result was achieved in 01 patients (3%), good in 15 patients (50%), fair in 12 patients (40%) and poor in 02 (07%) patients.
Conclusion: volar locked plating showed superiority over distractor fixation after 1 year of surgery.
Downloads
Download data is not yet available.
References
Flinkkilä T, Sirniö K, Hippi M, Hartonen S, Ruuhela R, Ohtonen P, et al. Epidemiology and seasonal variation of distal radius fractures in Oulu, Finland. Osteoporos Int J Establ Result Coop Eur Found Osteoporos Natl Osteoporos Found USA. 2011 Aug;22(8):2307–12.

Owen RA, Melton LJ, Johnson KA, Ilstrup DM, Riggs BL. Incidence of Colles' fracture in a North American community. Am J Public Health. 1982 Jun;72(6):605–7.

Fernández DL. Fractures of the distal radius: operative treatment. Instr Course Lect. 1993;42:73–88.

Rampoldi M, Marsico S. Complications of volar plating of distal radius fractures. Acta Orthop Belg. 2007 Dec;73(6):714–9.

Solgaard S, Petersen VS. Epidemiology of distal radius fractures. Acta Orthop Scand. 1985 Oct;56(5):391–3.

Edwards GS. Intra-articular fractures of the distal part of the radius treated with the small AO external fixator. J Bone Joint Surg Am. 1991 Sep;73(8):1241–50.

Diaz-Garcia RJ, Oda T, Shauver MJ, Chung KC. A systematic review of outcomes and complications of treating unstable distal radius fractures in the elderly. J Hand Surg. 2011 May;36(5):824–835.e2.

Constantine KJ, Clawson MC, Stern PJ. Volar neutralization plate fixation of dorsally displaced distal radius fractures. Orthopedics. 2002 Feb;25(2):125–8.

Pattanashetty, O.B. et al. Outcome of fracture of distal end of radius in adults treated by open reduction and internal fixation with buttress plate. Kerala Journal of Orthopaedics, [S.l.], v. 26, n. 2, p. 87-92, aug. 2013.

Gogna P, Selhi HS, Singla R, Devgan A, Magu NK, Mahindra P, Yamin M (2013) Dorsally comminuted fractures of the distal end of the radius: Osteosynthesis with Volar Fixed Angle Locking Plates. ISRN Orthopaedics. Article ID 131757, 6 pages.

Rozental TD, Blazar PE. Functional Outcome and Complications After Volar Plating for Dorsally Displaced, Unstable Fractures of the Distal Radius. J Hand Surg. 2006 Mar;31(3):359–65.

Joideep Phadnis et al. Mid-term functional outcome after the internal fixation of distal radius fractures. J Orthop Surg Res. 2012; 7: 4.

Shukla R, Jain RK, Sharma NK, Kumar R. External fixation versus volar locking plate for displaced intra-articular distal radius fractures: a prospective randomized comparative study of the functional outcomes. J Orthop Traumatol Off J Ital Soc Orthop Traumatol. 2014 Dec;15(4):265–70.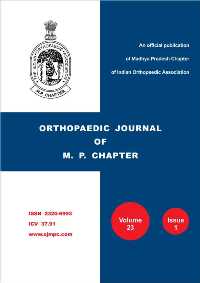 CITATION
DOI: 10.5281/zenodo.3970573
How to Cite
1.
Bhinde S, Bajoria R S, Kaushal A. A comparative study of outcome of distal radius fracture frykman type (IV-VIII) treated with distractor fixation versus volar plate. ojmpc [Internet]. 2017Jun.30 [cited 2023Dec.7];23(1):26-1. Available from: https://ojmpc.com/index.php/ojmpc/article/view/46