Functional and radiological outcome of parallel plate technique in distal humerus fractures: a prospective study
Singh V

Department of Orthopaedics, R. D. Gardi Medical College & C. R. G. Hospital & Associated Charitable Hospital, Ujjain (M.P.)

Bhinde S

Department of Orthopaedics, R. D. Gardi Medical College & C. R. G. Hospital & Associated Charitable Hospital, Ujjain (M.P.)

Patidar A

Department of Orthopaedics, R. D. Gardi Medical College & C. R. G. Hospital & Associated Charitable Hospital, Ujjain (M.P.)

Agrawal A

Department of Orthopaedics, R. D. Gardi Medical College & C. R. G. Hospital & Associated Charitable Hospital, Ujjain (M.P.)

Sharma S K

Department of Orthopaedics, R. D. Gardi Medical College & C. R. G. Hospital & Associated Charitable Hospital, Ujjain (M.P.)
Keywords:
Distal humerus fractures, parallel plating, MEPS score
Abstract
Background: Distal humerus fractures account for 2-6% of all fractures and 30% of all elbow fractures.These are difficult to treat because of their complex anatomy, metaphyseal comminution of fracture, subchondral bone and articular involvement with small fragments.
Aim: To study the results of intercondylar fracture distal end humerus treated with open reduction internal fixation with parallel plating technique in terms of final range of motion of elbow, union time and rate of complications.
Material and Methods: A total of 25 patients with distal humerus intercondylar fractures treated with parallel plating technique were included in this prospective randomised study. At each follow up patients were evaluated clinically and radiologically for union and outcomes were measured in terms of MAYO Elbow Performance Score(MEPS) consisting of pain intensity, range of motion, stability and function.
Results: Eight (32%) patients got excellent outcome, fourteen(56%) got good outcome and 3(12%) got poor outcomes and complications observed were infection, non union, hardware prominence and elbow stiffness.
Conclusion: Open reduction internal fixation(ORIF) with parallel plating technique can be a successful technique for fixation of distal humerus intercondylar fractures when its principles are strictly adhered to.
Downloads
Download data is not yet available.
References
Kulkarni, V., Mahesh, U., Jumani, M. S., Shivalingaiah, K., YS, H., & Qureshi, A. (2017). To study the outcome of intercondylar fractures of distal humerus using dual plating and its functional outcome. International Journal of Orthopaedics, 3(4), 565-570.
Sanchez-Sotelo, J., Torchia, M. E., & O'Driscoll, S. W. (2007). Complex distal humeral fractures: internal fixation with a principle-based parallel-plate technique. JBJS, 89(5), 961-969.
McKee, M. D., Wilson, T. L., Winston, L., Schemitsch, E. H., & Richards, R. R. (2000). Functional outcome following surgical treatment of intra-articular distal humeral fractures through a posterior approach. JBJS, 82(12), 1701.
Principle-based internal fixation of distal humerus fractures. Sanchez-Sotelo J, Torchia ME, O'driscoll SWTech Hand Up Extrem Surg. 2001 Dec; 5(4):179-87.
Fractures of the distal humerus. Ring D, Jupiter JB Orthop Clin North Am. 2000 Jan; 31(1):103-13.
Surgical fixation of intra-articular fractures of the distal humerus in adults. Soon JL, Chan BK, Low CO Injury. 2004 Jan; 35(1):44-54. Comparative stability of perpendicular versus parallel double-locking plating systems in osteoporotic comminuted distal humerus fractures.
Stoffel K, Cunneen S, Morgan R, Nicholls R, Stachowiak GJ Orthop Res. 2008 Jun; 26(6):778-84.
Biomechanical comparison of two different periarticular plating systems for stabilization of complex distal humerus fractures. Schwartz A, Oka R, Odell T, Mahar
Atalar, A. C., Demirhan, M., Salduz, A., Kilicoglu, O., & Seyahi, A. (2009). Functional results of the parallel-plate technique for complex distal humerus fractures. Acta Orthop Traumatol Turc, 43(1), 21-7.
Athwal, G. S., Hoxie, S. C., Rispoli, D. M., & Steinmann, S. P. (2009). Precontoured parallel plate fixation of AO/OTA type C distal humerus fractures. Journal of orthopaedic trauma, 23(8), 575-580.
Dinesh, L. (2013). Functional Outcome Analysis of Parallel-Plate technique for distal humerus fractures (Doctoral dissertation, Madras Medical College, Chennai).
Sanders, R. A., Raney, E. M., & Pipkin, S. P. (1992). Operative treatment of bicondylar intraarticular fractures of the distal humerus.
Gofton, W. T., MacDermid, J. C., Patterson, S. D., Faber, K. J., & King, G. J. (2003). Functional outcome of AO type C distal humeral fractures. The Journal of hand surgery, 28(2), 294-308.
Robinson, C. M., Hill, R. M., Jacobs, N., & Dall, G. (2003). Adult distal humeral metaphyseal fractures: epidemiology and results of treatment. Journal of orthopaedic trauma, 17(1), 38-47.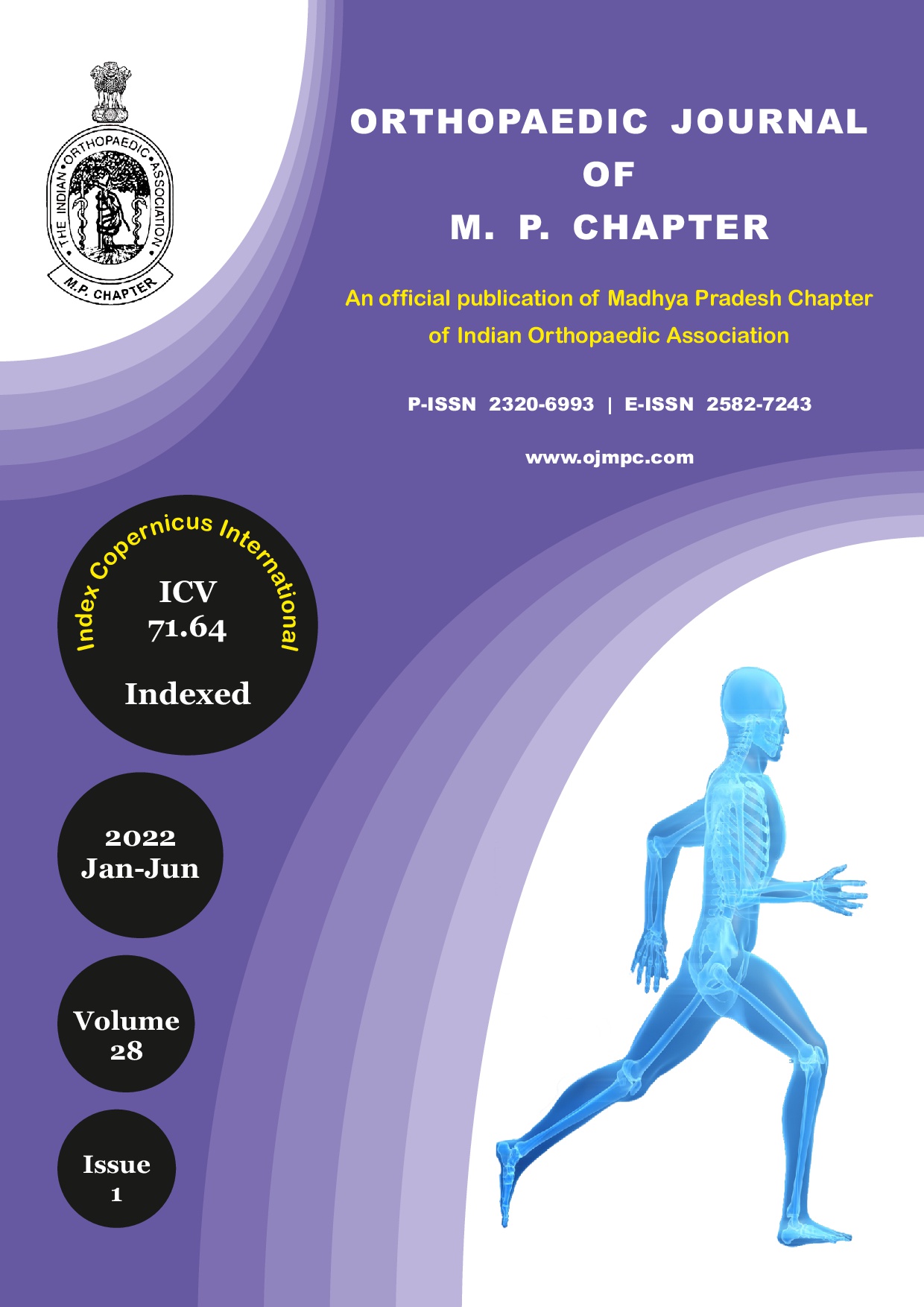 How to Cite
1.
Singh V, Bhinde S, Patidar A, Agrawal A, Sharma S K. Functional and radiological outcome of parallel plate technique in distal humerus fractures: a prospective study. ojmpc [Internet]. 2022Jun.30 [cited 2023Dec.7];28(01):12-7. Available from: https://ojmpc.com/index.php/ojmpc/article/view/153