Clinical and functional outcome of uncemented total hip replacement in patients with avascular necrosis of femoral head
Singh V

Department of Orthopaedics, R.D. Gardi Medical College, Ujjain, (M.P.), India

Bhinde S

Department of Orthopaedics, R.D. Gardi Medical College, Ujjain, (M.P.), India

Patidar A

Department of Orthopaedics, R.D. Gardi Medical College, Ujjain, (M.P.), India

Jain S

Department of Orthopaedics, R.D. Gardi Medical College, Ujjain, (M.P.), India

Sharma SK

Department of Orthopaedics, R.D. Gardi Medical College, Ujjain, (M.P.), India
Keywords:
Avascular necrosis of femoral head, uncemented total hip arthroplasty
Abstract
Background: Avascular necrosis of femoral head is a common problem. New cases are now a days diagnosed early and treated early, because of Ayushman bharat yojna. It mostly affects the femoral head (hip joint). Its management can be conservative or invasive. [1-4]. Total hip arthroplasty is the treatment of choice for third and fourth stage avascular necrosis [5-8].
Material & Method: Fifty patients of Avascular necrosis of femoral head of stage III and IV are operated by uncemented total hip arthroplasty and their results were assessed by Harris hip score.
Results: The mean Harris hip score during preoperative stage was 33.27 and during postoperative stage was 91.60. Excellent results are seen in 44 patients, good results are seen in 6 patients, poor or very poor results are seen in none patients.
Conclusion: Current generation of uncemented implants provide satisfactory clinical and radiographic outcomes in intermediate duration of follow up in avn of hip.
Downloads
Download data is not yet available.
References
Lavernia CJ, Sierra RJ, Grieco FR. Osteonecrosis of the femoral head. J Am AcadOrthop Surg. 1999;7(4):250-61.
Vail TP, Covington DB. The incidence of osteonecrosis. In: Urbaniak JR, Jones JR, eds. Osteonecrosis: Etiology, Diagnosis, Treatment. Rosemont, Ill: American Academy of Orthopedic Surgeons, 1997, 43-9.
eMedicine Specialties > Bone Infarct Author: Ali Nawaz Khan. Coauthors: Mohammed Jassim Al-Salman, Muthusamy Chandramohan, Sumaira MacDonald, Charles Edward Hutchinson.
Digiovanni, CW, Patel, A, Calfee, R, Nickisch F. Osteonecrosis in the foot: The Journal of the American Academy of Orthopaedic Surgeons 2007;15(4):208–17.
eMedicine Specialties > Avascular Necrosis Author: Jeanne K Tofferi, MD, MPH, FACP; Coauthor: William Gilliland, MD, MPHE, FACP, FACR. Updated, 2009
Mont MA, Hungerford DS. Non-traumatic avascular necrosis of the femoral head. J Bone Joint Surg Am. 1995; 77:459.
Mont MA,Jones LC,Hungerford DS.Non-traumatic osteonecrosis of the femoral head: Ten years later- current concepts review J Bone Joint Surg Am. 2006;88:1107-29.
Steinberg ME. Diagnostic imaging and role of stage and lesion size in determining outcome in osteonecrosis of the femoral head. Tech Orthop. 2001;16:6-15.
Harkess JW.Arthroplasty of hip.,Campbells Operative Orthpeadics, Edited by Crenshaw AH, 8th edition, Vol. 1: CV Mosby Company, St. Louis, Washington DC, Torto, 1982.
Eftekhar NS. Total hip replacement using principles of lowfriction arthroplasty: The hip surgery of the musculoskeletal system, Edited by CM Evarts, Vol.3: Churchill Livingston, 1983.
Steinberg, Marvin E. Osteonecrosis:Merck Manual of Diagnosis and Therapy. Archived from the original on 12 May 2009.
Tofferi JK,Gilliland W,Avascular necrosis,available at http:// emedicine.medscape.com/article/333364, updated: Jan 19, 2012. Accessed March 20, 2012.
Koo KH, Kim R, Kim YS et al. Risk period for developing osteonecrosis of the femoral head in patients on steroid treatment. ClinRheumatol. 2002;21(4):299-303.
Jacobs B. Epidemiology of traumatic and nontraumatic osteonecrosis. Clin Orthop. 1998;130:51-67.
Callaghan JJ, Dysart SH, Savory CG. The uncemented porous coated anatomic total hip prosthesis. Two-year results of a prospective consecutive series. J Bone and Joint Surg. 1988; 70-A:337-346.
Katz JN, Phillips CB, Baron JA, Fossel AH, Mahomed NN, Barrett J et al. Association of hospital and surgeon volume of total hip replacement with functional status and satisfaction three years following surgery. Arthritis Rheum 2003;48:560– 568.
Meek RM, Garbuz DS, Masri BA, Greidanus NV, Duncan CP. Intraoperative fracture of the femur in revision total hip arthroplasty with a diaphyseal fitting stem. J Bone Joint Surg Am. 2004;86:480-5.
Learmonth ID. The management of periprosthetic fractures around the femoral stem. J Bone Joint Surg Br. 2004;86:13-9.
Konyves A, Bannister GC. The importance of leg length discrepancy after total hip arthroplasty. J Bone Joint Surg Br. 2005;87:155-7.
Phillips FM, Pottenger LA, Finn HA, Vandermolen J. Cementless total hip arthroplasty in patients with steroid induced avascular necrosis of the hip. A 62-month follow-up study. ClinOrthopRelat Res. 1994; 303:147-54.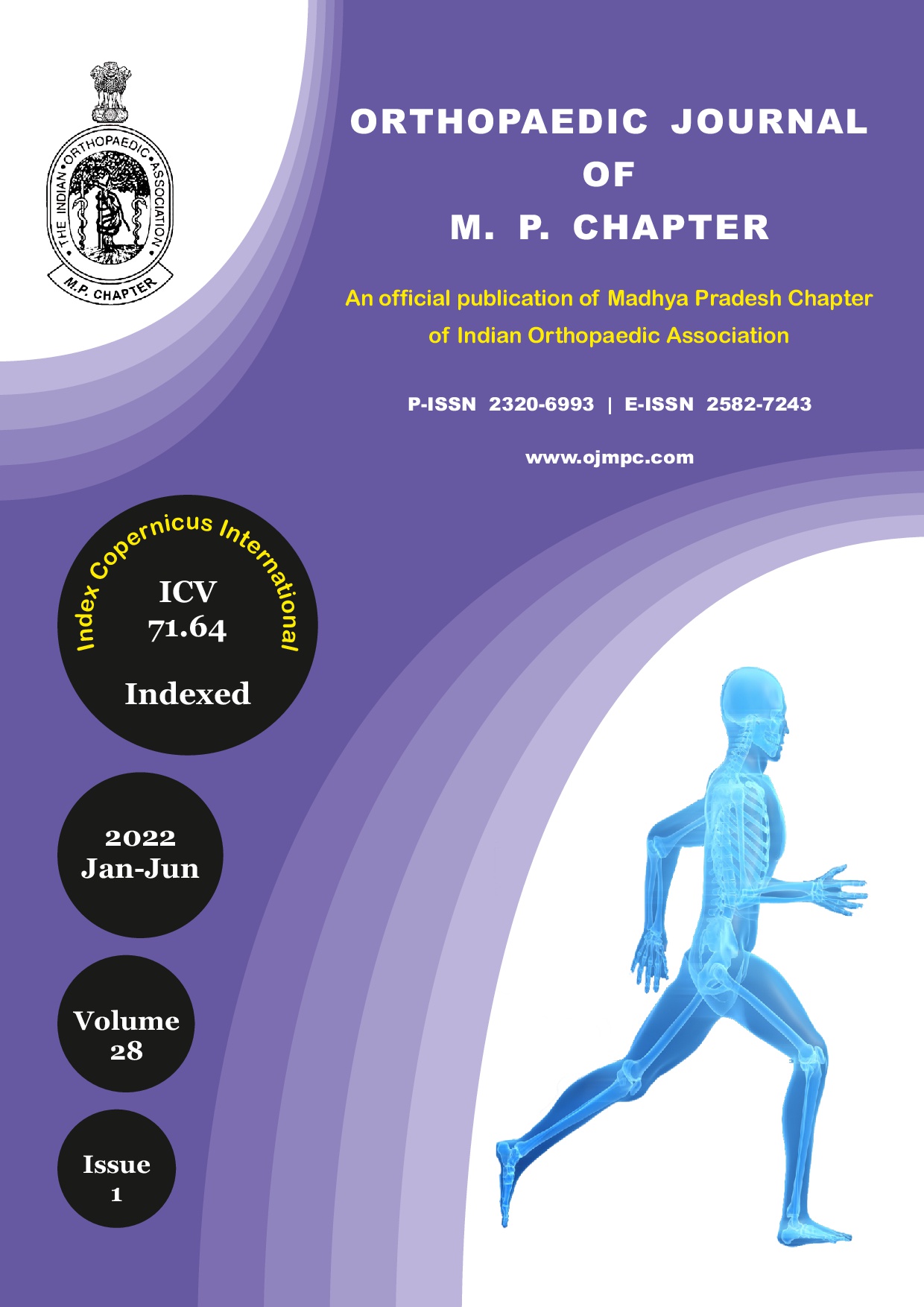 How to Cite
1.
Singh V, Bhinde S, Patidar A, Jain S, Sharma SK. Clinical and functional outcome of uncemented total hip replacement in patients with avascular necrosis of femoral head. ojmpc [Internet]. 2022Jun.30 [cited 2023Dec.7];28(01):44-7. Available from: https://ojmpc.com/index.php/ojmpc/article/view/154