Systematic review of nerve injury following total hip replacement with posterior or lateral approach
Dr Bhattacharjee D

Specialist, Dept. of Orthopaedics, Glan Clwyd Hospital, Rhuddlan Rd, Bodelwyddan, Rhyl, Wales, United Kingdom

Dr Gandavaram S

Department of Orthopaedics, Glan Clwyd Hospital, Rhyl, Wales, United Kingdom

Dr Singhai S

Department of Orthopaedics, Glan Clwyd Hospital, Rhyl, Wales, United Kingdom

Guduri V

Department of Orthopaedics, Glan Clwyd Hospital, Rhyl, Wales, United Kingdom

Dr Kattimani R

Department of Orthopaedics, Glan Clwyd Hospital, Rhyl, Wales, United Kingdom

Dr Dojode C

Department of Orthopaedics, Glan Clwyd Hospital, Rhyl, Wales, United Kingdom
Keywords:
Systematic, injury, posterior
Abstract
Background: Total hip replacement, is common surgical procedure, performed through posterior or lateral approach but it is yet not clear which method is safe and provides reduced risk of nerve injury. Nerve injury after total hip replacement can be severe debilitating leading to poor outcome. Thus we performed this systematic review with the aim to assess the risk of nerve injury after THR by different surgical approaches and to evaluate the adverse effects and the functional outcomes of nerve injury after THR
Material & Methods: A thorough literature search conducted of Cochrane Bone Joint and Muscle Trauma Group, Cochrane Database of the Systematic Reviews, Cochrane Central Register of Control Trials, MEDILINE, EMBASE and CINAHL from their inception to 29 May 2014. Grey literature was located via the website www.opengrey.eu, conference proceedings and trial registries. Prospective and retrospective case series and case control studies were included in the systematic review. The inclusion criteria were adult population of 18 years and above with total hip replacement for osteoarthritis, dysplastic hip, acetabular fracture or revision total hip replacement. The exclusion criteria were patients below 18 years of age, with pre-operative nerve palsy or with previous medical conditions like stroke and low back pain. Cadaveric and biomechanical studies and studies conducted in non-English languages were excluded. Authors independently selected the studies using inclusion and exclusion criteria, assessed risk of bias and extracted data.
Results: A case control study, two prospective case series and two retrospective case series were included in this systematic review. The studies selected overall reported 97 patients with nerve injury following 36735 total hip replacements (prevalence 0.2%). Only one out of the five selected studies reported statistically significant effecting outcome after nerve injury, following posterior approach compared lateral approach.
Conclusion: The systematic review results revealed an overall very low quality of evidence and could not offer support for any particular surgical approach to reduce nerve injury during total hip replacement. The systematic review underlined the need for further studies to properly establish the risk factors associated with different surgical approaches to improve evidence based knowledge and reduce patient disability.
Downloads
Download data is not yet available.
References
1. Wroblewski BM, Siney PD, Fleming PA. Charnley Low-frictional torque arthroplasty in patients under 55 years. Follow-up to 33 yrs. J Bone Joint Surg (Br). 2001;94:12:540-3.

2. Johanson NA, Pellici PM, Tsairis P, Salvati EA. Nerve injury in total hip arthroplasty. Clin Orthop.1983;179:214-22.

3. Wilson JN, Scales JT. The Stanmore metal on metal total hip prosthesis using a three pin type cup: a follow-up of 100 arthroplasties over nine years. Clin Orthop. 1973;95:239-49.

4. Weber ER, Duabe JR, Coventry MB. Peripheral neuropathies associated with Total hip arthroplasty. J Bone Joint Surg (Am). 1976;58:66-9.

5. Wasielewski RC, Crossett LS, Rubash HE. Neural and vascular injury in total hip arthroplasty. Clin Orthop (Am). 1992;23:219-35.

6. Unwin A, Scott J. Nerve palsy after hip replacement: medico-legal implications. Internat Orthop. 1999;23:133–7.

7. Solheim LF, Hagen R. Femoral and sciatic neuropathies after total hip Arthroplasty. Acta Orthop Scand. 1980;51(3):531-4.

8. Schmalzreid TP, Amstutz HC, Dorey RJ. Nerve palsy associated with total hip replacement. J Bone Joint Surg (Am). 1991;73:1074-80.

9. Nercessian OA, Piccoluga F, Eftekhar NS. Postoperative sciatic and femoral nerve palsy with reference to leg lengthening and medicalization & lateralization of the hip joint following total hip arthroplasty. Clin Orthop Relat Res 1994;9:645-51.

10. Siliski JM, Scott RD. Obturator nerve palsy resulting from intrapelvic extrusion of cement during total hip replacement: report of four cases. J Bone Joint Surg (Am).1984;67(8):1225-8.

11. Weale AE, Newman P, Ferguson IT, Bannister GC. Nerve injury after posterior and direct lateral approaches for hip replacement. A clinical and electrophysiological study. J Bone Joint Surg (Br).1996;78(6):899–902.

12. Hurd JL, Potter HG, Dua V, Ranawat CS. Sciatic nerve palsy after primary total hip arthroplasty: a new perspective. J Arthroplasty.2006;21:6:796–802.

13. Navarro RA, Schmalzried TP, Amstutz HC, Dorey FJ. Surgical approach and nerve palsy in total hip arthroplasty. J Arthroplasty. 1995;10:1-5.

14. Farrell CM, Springer BD, Haidukewych GJ. Motor Nerve Palsy Following Primary Total Hip Arthroplasty. J Bone Joint Surg. 2005;87:12:2619-25.

15. Nercessian OA, Macaulay W, Stinchfield FE. Peripheral neuropathies following total hip arthroplasty. Clin Orthop. 1995;6:645.

16. Stone RG, Weeks LE, Hajdu M. Evaluation of sciatic nerve compromise during total hip arthroplasty. Clin Orthop.1985;201:26-31.

17. Jolles BM, Bogoch ER. Posterior versus lateral surgical approach for total hip arthroplasty in adults with osteoarthritis. Cochrane Database of Systematic Reviews.2006;3:CD003828.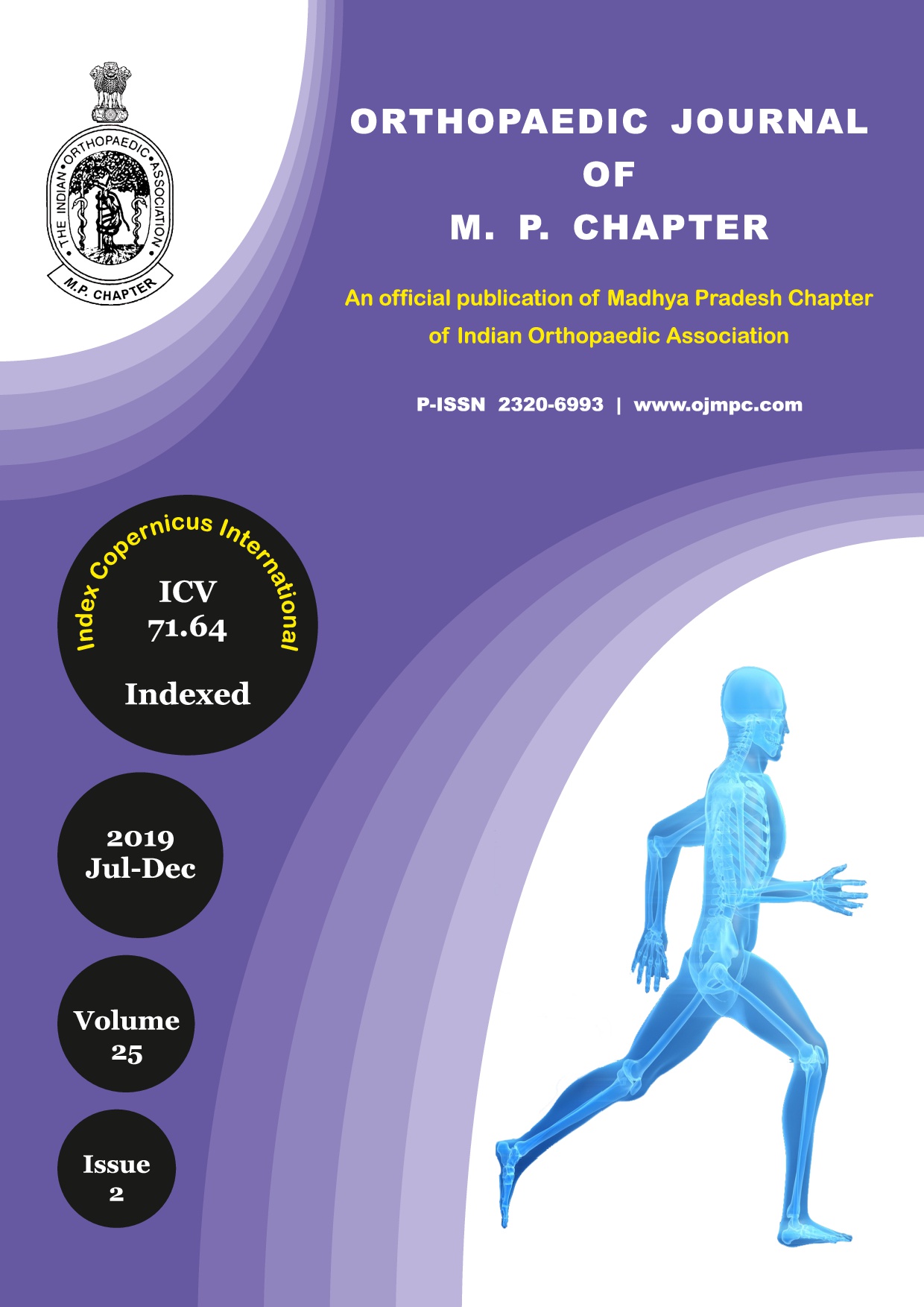 How to Cite
1.
Dr Bhattacharjee D, Dr Gandavaram S, Dr Singhai S, Guduri V, Dr Kattimani R, Dr Dojode C. Systematic review of nerve injury following total hip replacement with posterior or lateral approach. ojmpc [Internet]. 2019Dec.31 [cited 2020Oct.20];25(2):51-8. Available from: https://ojmpc.com/index.php/ojmpc/article/view/83
This work is licensed under a Creative Commons Attribution-NonCommercial-NoDerivatives 4.0 International License.