Tillaux Fracture In Adult: A Case Report
Syed T

Rotherham District General Hospital, Rotherham, South Yorkshire, United Kingdom

Storey P

Rotherham District General Hospital, Rotherham, South Yorkshire, United Kingdom

Rocha R

Rotherham District General Hospital, Rotherham, South Yorkshire, United Kingdom

Kocheta A

Rotherham District General Hospital, Rotherham, South Yorkshire, United Kingdom

Singhai S

Rotherham District General Hospital, Rotherham, South Yorkshire, United Kingdom
Keywords:
Ankle fracture, Tillaux fracture, Anterolateral tibial avulsion
Abstract
We report a rare case of Tillaux fracture of the ankle in a 36-year-old man. He sustained the injury in a football tackle and presented to us with pain and swelling of the left ankle. After preliminary X-rays, a CT scan was done which showed a Tillaux type fracture which is a rare injury after epiphyseal fusion. The ankle was treated with open reduction and internal fixation with screws and plaster for 6 weeks. At 3 months the patient had no pain in the ankle and able to mobilize full weight bearing on that side.
Downloads
Download data is not yet available.
References
1. Rockwood CA, Wilkins KE, King RE. In: Fractures in Children. Vol 3. 3rd edi. Philadelphia, Lippincott Williams & Wilkins, 1996: pp.1341-77.
2. Pesl T, Havranek P. Rare injuries to the distal tibiofibular joint in children. Eur J Pediatr Surg. 2006;16(4):255-9.
3. Simon WH, Floros R, Schoenhaus H, et al. Juvenile fracture of Tillaux. A distal tibial epiphyseal fracture. J Am Podiatr Med Assoc 1989;2013:295–9
4. Marti CB, Kolker DM, Gautier E. Isolated adult Tillaux fracture: a case report. Am J Orthop. 2005;34:337–9.
5. Oak NR, Sabb BJ, Kadakia AR, Irwin TA. Isolated adult Tillaux fracture: a report of two cases. J Foot Ankle Surg. 2014;53:489–92.
6. S Chokkalingam, S Roy. Adult Tillaux Fractures Of Ankle: Case Report. Internet J Orthop Surg. 2006;6(1):1-3.
7. Shetty S, Sasidharan B, Shetty S, Awadhani A. Case Report: The Tillaux Fracture in Adult. Orthop Surg Traumatol. 2017;1:114-7.
8. Kaya A, Altay T, Ozturk H, Karapinar L. Open reduction and internal fixation in displaced juvenile Tillaux fractures. Injury. 2007;38(2):201-5.
9. Kumar N, Prasad M. Tillaux fracture of the ankle in an adult: A rare injury. J Foot Ankle. 2014;53:757-8.
10. Cooper AP. On dislocation of the ankle joints. In: A Treatise on Dislocations and on Fractures of the joints. London, Longman, Hurst, Reese, Orme and Brown. E Cox and Son, 1822.
11. Tillaux P. Trait de chirugieclinique. Vol 2. Paris, Asselin and Hourzeau, 1848.
12. Kleiger B, Mankin HJ. Fracture of the lateral portion of the distal tibial epiphysis. J Bone Joint Surg. 1964;46:25-32.
13. Protas JM, Kornblatt BA. Fractures of the lateral margin of the distal tibia. The Tillaux fracture. Radiology 1981;138(1):55-7.
14. Horn BD, Crisci K, Krug M, Pizzutillo PD, MacEwen GD. Radiologic evaluation of juvenile Tillaux fractures of the distal tibia. J Paediatric Orthop. 2001;21(2):162-4.
15. Miller MD. Arthroscopically assisted reduction and fixation of an adult Tillaux fracture of the ankle. Arthroscopy 1997;13:117–9.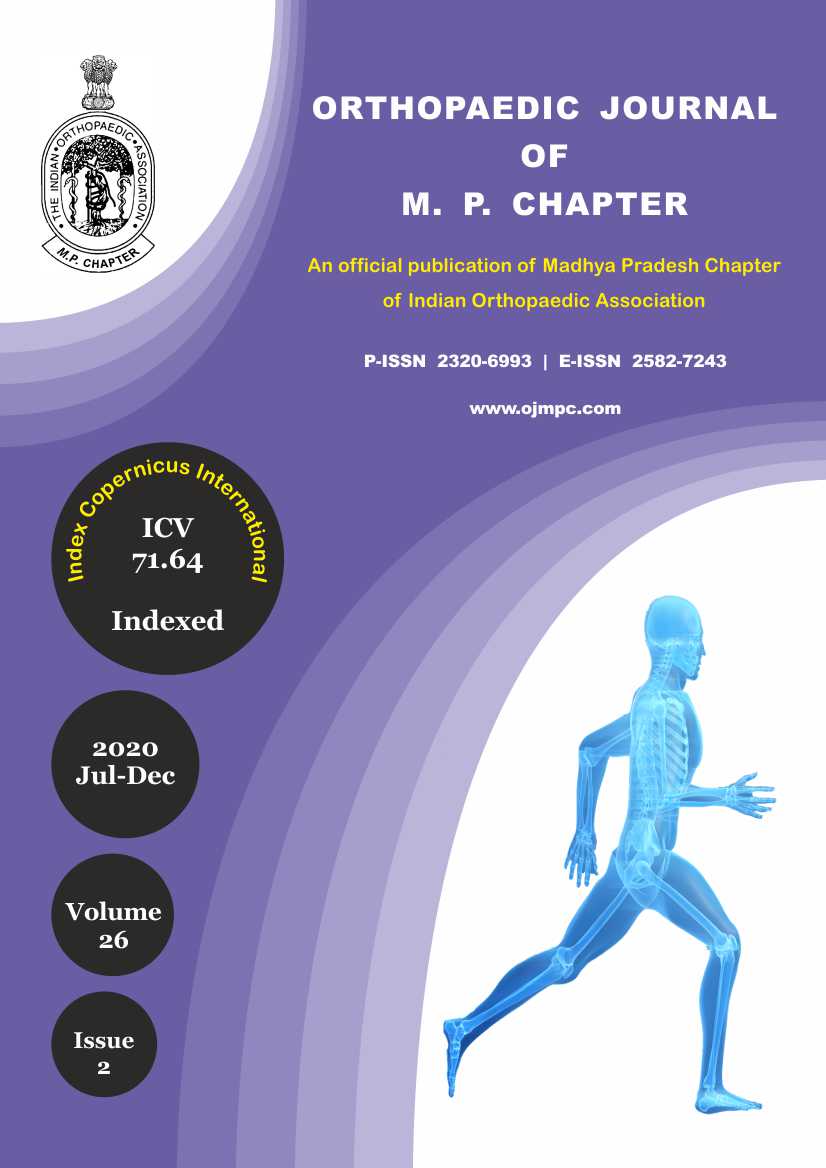 How to Cite
1.
Syed T, Storey P, Rocha R, Kocheta A, Singhai S. Tillaux Fracture In Adult: A Case Report. ojmpc [Internet]. 2020Dec.16 [cited 2023Jun.7];26(2):95-8. Available from: https://ojmpc.com/index.php/ojmpc/article/view/126