Is It Worthy To Replace Hip Than To Go For Intramedullary Osteosynthesis In Unstable Intertrochantric Fractures In Elderly- A Prospective Comparative Study
Sabir AB

Investigation preformed at Jawahar Lal Nehru Medical College, Aligarh Muslim University, Aligarh

Mohan R

Investigation preformed at Jawahar Lal Nehru Medical College, Aligarh Muslim University, Aligarh

Faizan M

Investigation preformed at Jawahar Lal Nehru Medical College, Aligarh Muslim University, Aligarh

Jilani LZ

Investigation preformed at Jawahar Lal Nehru Medical College, Aligarh Muslim University, Aligarh

Ahmed S

Investigation preformed at Jawahar Lal Nehru Medical College, Aligarh Muslim University, Aligarh

Shaan ZH

Investigation preformed at Jawahar Lal Nehru Medical College, Aligarh Muslim University, Aligarh
Keywords:
Intertrochanteric fracture, Internal fixation, Arthroplasty, Harris Hip Score
Abstract
Background: Internal fixation for the management of unstable intertrochantric femoral fractures in elderly is difficult and less successful due to communition and poor bone stock. Arthroplasty for unstable intertrochantric fracture in elderly has produced promising results as per literature. So, we conducted this study to compare the results of intramedullary devices with cemented bipolar hemiarthroplasty in unstable osteoporotic intertrochanteric fractures in elderly patients.
Material & methods: 51 patients, 65 years or older with unstable osteoporotic intertrochanteric femoral fractures were treated with internal fixation or hemiarthroplasty. Intraoperative parameters and functional outcome as per Harris Hip Score were compared.
Results: Average age of patients for intramedullary fixation and arthroplasty was 73 ± 6 years and 75 ± 6.5 years respectively. Average delay in surgery for group A (PFN) and group B (hemiarthroplasty) was 5.7 days and 6.56 days, mean duration of surgery was 75 min (range 45 to 125) and 95 min (range 70 to 132), mean blood loss was 180ml (range 150 to 280) and 270 ml (range 250 to 420) respectively. Harris hip score at one year were better in arthroplasty group but almost comparable at two year.
Conclusion: Primary arthroplasty provides a stable, painless and reasonably functional joint, which provided early mobility and rehabilitation and hence is a better way of managing an osteoporotic unstable intertrochanteric fracture in elders especially. However, overall long term functional outcomes are almost similar for two groups.
Downloads
Download data is not yet available.
References
1. Dahl E. Mortality and life expectancy after hip fractures. Acta Orthop Scand. 1980; 51(1):163-70.
2. Grisso JA, Kelsey JI, Strom BL, Chio GY. Risk factors for falls as a cause of hip fractures in women. N Engl J Med. 1991;324:1326-31.
3. Rosenblum SF, Zuckerman JD, Kummer FJ, Tam BS. A biomechanical evaluation of the gamma nail. J Bone Joint Surg Am. 1992;74(3):352-7.
4. Heyse-Moore GH, MacEachen AC, Jameson Evans DC. Treatment of trochanteric fractures of the femur. J Bone Joint Surg Br. 1983;65:262-7.
5. Dimon JH, Hughston JC. Unstable intertrochanteric fractures of hip. J Bone Joint Surg Am. 1967;49-A:440-50.
6. Kaufer H. Mechanics of the treatment of hip injuries. Clin Orthop Relat Res. 1980;146:53–61
7. Kyle RF, Gustilo RB, Premer PF. Analysis of Six hundred and Twenty–two intertrochanteric Hip Fractures. J Bone Joint Surg Am. 1979;61: 216-21.
8. Sturt G. Bipolar prosthetic replacement for the management of unstable intertrochanteric fractures in the elderly. Clin Orthop Relat Res. 1987;224:169-77.
9. Cleas H, Broos P, Stappaerts K. Pertrochanteric Fractures in Elderly patient Treatment with Ender's nail, blade-plate or endoprosthesis? Injury. 1985;16(4):261-64.
10. Sarmeinto. Intertrochanteric fractures of femur 150-degree angle nail plate fixation and early rehabilitation, a preliminary report of 100 cases. J Bone Joint Surg Am. 1963;45:706-722.
11. Morihara T, Arai Y, Tokugawa S, Fujita S, Chatani K, Kubo T. Proximal femoral nail for treatment of trochanteric femoral fractures. J Orthop Surg 2007;15(3):273-7.
12. Tang P, Hu F, Shen J, Zhang L, Zhang L. Proximal femoral nail antirotation versus hemiarthroplasty: A study for treatment of intertrochanteric fractures. Injury. 2012;43(6) :876-81.
13. Haentjens P, Casteleyn PP, De Boeck H, Handelberg F, Opdecam P. Treatment of unstable intertrochanteric and subtrochanteric fractures in elderly patients. Primary bipolar arthroplasty compared with internal fixation. J Bone Joint Surg Am 1989;71:1214–25.
14. Grimsrud C, Monzon RJ, Richman J, Ries MD. Cemented hip arthroplasty with a novel circlage technique for unstable intertrochanteric hip fractures. J Arthroplasty 2005;20:337–43.
15. Kim SY, Kim YG, Hwang JK. Hemiarthroplasty compared with intramedullary fixation of unstable intertrochanteric fractures: J Bone Joint Surg Am. 2005;87:2186-92.
16. Tronzo RG. The use of an endoprosthesis for severly comminuted trochanteric fractures. Orthop Clin North Am. 1974;5:679-81.
17. Stern MB, Angerman A. Comminuted intertrochanteric fractures treated with a Leinbach prosthesis. Clin Orthop Relat Res 1987;218:75–80.
18. Vahl AC, Dunki Jacobs PB, Parka P. Haarman HI. Herniarthroplasty in elderly, debilitated patients with an unstable femoral fracture in the trochanteric region. Acta Orthop Belg 1994;60:274-9.
19. Ain MC, Andres BM, Somel DS, Fishkin Z, Frassica FJ. Total hip arthroplasty in skeletal dysplasias: patient selection, preoperative planning and operative technique. J Arthroplasty 2004;19:1-7.
20. Davis TR, Sher JL, Horsman A, Simpson M, Porter BB, Checketts RG. Intertrochanteric femoral fractures. Mechanical failure after internal fixation. J Bone Joint Surg Br 1990;72:26–31.
21. Chang WS, Zuckerman JD, Kummer FJ, Frankel VH. Biomechanical evaluation of anatomic reduction versus medial displacement osteotomy in unstable intertrochanteric fractures. Clin Orthop Relat Res 1987;225:141–6.
22. Woo RY, Morrey BF. Dislocations after total hip arthroplasty, J Bone Joint Surg Am 1982;64:1295-301.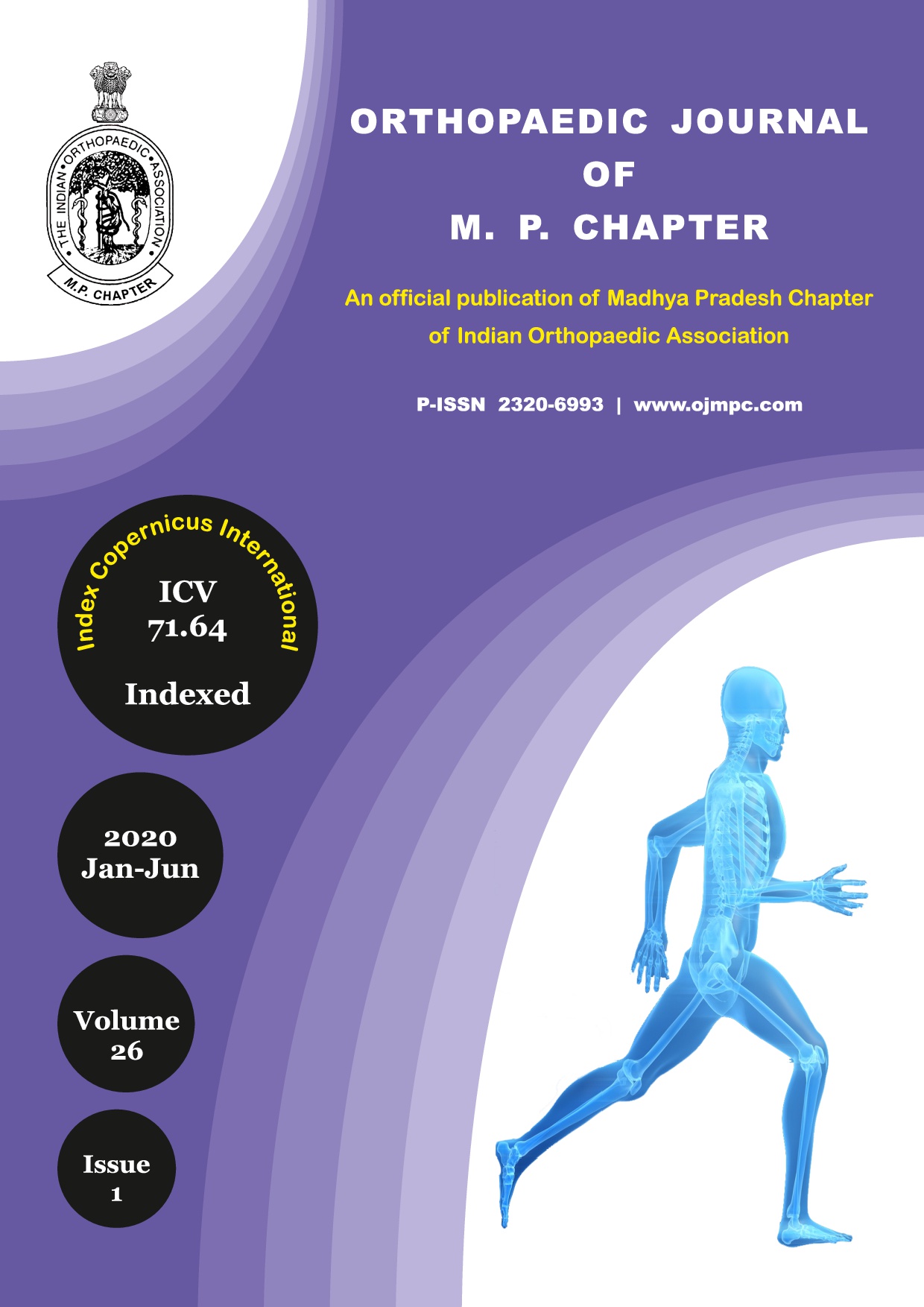 How to Cite
1.
Sabir AB, Mohan R, Faizan M, Jilani LZ, Ahmed S, Shaan ZH. Is It Worthy To Replace Hip Than To Go For Intramedullary Osteosynthesis In Unstable Intertrochantric Fractures In Elderly- A Prospective Comparative Study. ojmpc [Internet]. 2020Mar.31 [cited 2023Dec.7];26(1):19-3. Available from: https://ojmpc.com/index.php/ojmpc/article/view/99