Prospective study on outcome of distal radius treated with closed reduction and percutaneous pinning
Maravi L S

Sirsikar A

Vidyarthi A

Department of orthopaedics, Netaji Subhash Chandra Bose Medical College, Jabalpur, MP

Agamkant
Keywords:
Prospective Interventional Study, Percutaneous Pinning technique, Distal Radius fracture, Sarmiento score
Abstract
Background: Vast majority of fractures of distal radius are articular injuries that result in disruption of both radiocarpal and radioulnar joints. Therefore, this study evaluates the functional and radiological outcomes of distal radius fractures treated by percutaneous pinning in ulno-carpal joint and distal radius.
Methodology: A Prospective Interventional Study conducted at Department of Orthopaedics, N.S.C.B. Medical College and Hospital, Jabalpur (M.P.) with the study population of patients attending OPD and casualty diagnosed with distal Radius fracture from the duration of 1st March 2021 to 31st June 2022. Total of 50 Sample size was taken estimated through the formula n= z2*pq/d2. Data analysis was done through the IBM software SPSS and the statistical association was fund with the Confidence Interval of 95% and p-value>0.5.
Results: Total of 50 patients, 30 were male, and 20 were females, who were assessed through follow-up. According to Sarmiento score of range of motion, 6 Patients have excellent score (0-2), 12 patients have good score (3-8), 12 patients have fair (9-20), and 5 patients have poor (above 21).
Conclusion: Closed reduction and percutaneous K-wire fixation is a less intrusive, safer, and successful approach to preserve the reduction, avoid radial collapse during healing, and maintain DRUJ stability even when the fracture is extensively comminuted, intra-articular, or unstable.
Downloads
Download data is not yet available.
References
1 McQueen MM. Rockwood and Greens Fractures in Adults. 8th ed., Vol. 1. Lippincott William and Wilkins: Fractures of the Distal radius and Ulna; 2014. p. 1057.
2 Terry Canale S, Beaty JH. Campbell's Operative Orthopaedics. 12th ed., Part 15, Fractures and Dislocations in Adults. Mosby: Distal Radius Fracture; 2012. p. 3147.
3 Zemel NP. The prevention and treatment of complications from fractures of the distal radius and ulna. Hand Clin 1987;3:1-11.
4 Gofton W, Liew A. Distal radius fractures: non-operative and percutaneous pinning treatment options. Orthop Clin North Am 2007;38:175-85.
5 Fernandez DL, Jupiter JB, editors. Fractures of the distal radius: A practical approach to management. New York, NY: Springer-Verlag; 1996
6 Arora J, Kapoor H, Malik A, Bansal M. Closed reduction and plaster cast immobilization Vs. external fixation in comminuted intra-articular fractures of distal radius. Indian J Orthop 2004;38:113-7.
7 Depalma AF. Comminuted fractures of the distal end of the radius treated by ulnar pinning. J Bone Joint Surg Am 1952;24 A: 651-62.
8 Stein AH Jr., Katz SF. Stabilization of comminuted fractures of the distal inch of the radius: Percutaneous pinning. Clin Orthop Relat Res 1975;108:174-81.
9 Kapandji A. Internal fixation by double intrafocal pinning: Functional treatment of nonarticular fractures of the distal radius [French]. Ann Chir Main 1987;6:57.
10 Rayhack JM, Langworthy JN, Belsole RJ. Transulnar percutaneous pinning of displaced distal radial fractures: A preliminary report. J Orthop Trauma 1989;3:107-14.
11 Nagi ON, Dhillon MS, Aggarwal S, Deogaonkar KJ. External fixators for intra-articular distal radius fractures. Indian J Orthop 2004;38:19-22.
12 Ruch DS, Ginn TA. Open reduction and internal fixation of distal radius fractures. Op Tech Orthop 2000;13:138-43.
13 Doi K, Hattori Y, Otsuka K, Abe Y, Yamamoto H. Intra-articular fractures of the distal aspect of the radius: Arthroscopically assisted reduction compared with open reduction and internal fixation. J Bone Joint Surg Am 1999;81:1093-110.
14 Meena S, Sharma P, Sambharia AK, Dawar A. Fractures of distal radius: An overview. J Family Med Prim Care 2014;3:325-32.
15 Kim JY, Tae SK. Percutaneous distal radius-ulna pinning of distal radius fractures to prevent settling. J Hand Surg Am 2014;39:1921-5.
16 Srinivas C, Vadlamani K V P, Moorthy G V S, Satish P. Functional outcome of unstable distal radius fractures-Treated by closed reduction and percutaneous K-wire fixation. J Evolut Med Dent Sci 2015;4:14989-97.
17 Green DP. Pins and plaster treatment of comminuted fractures of the distal end of the radius. J Bone Joint Surg Am 1975;57:304-10.
18 Naidu SH, Capo JT, Moulton M, Ciccone W 2nd, Radin A. Percutaneous pinning of distal radius fractures: A biomechanical study. J Hand Surg Am 1997;22:252-7.
19 Alexa O, Popia I. Py-Desmanet pinning in distal radius fractures. Rev Med Chir Soc Med Nat Iasi 2009;113:1155-9.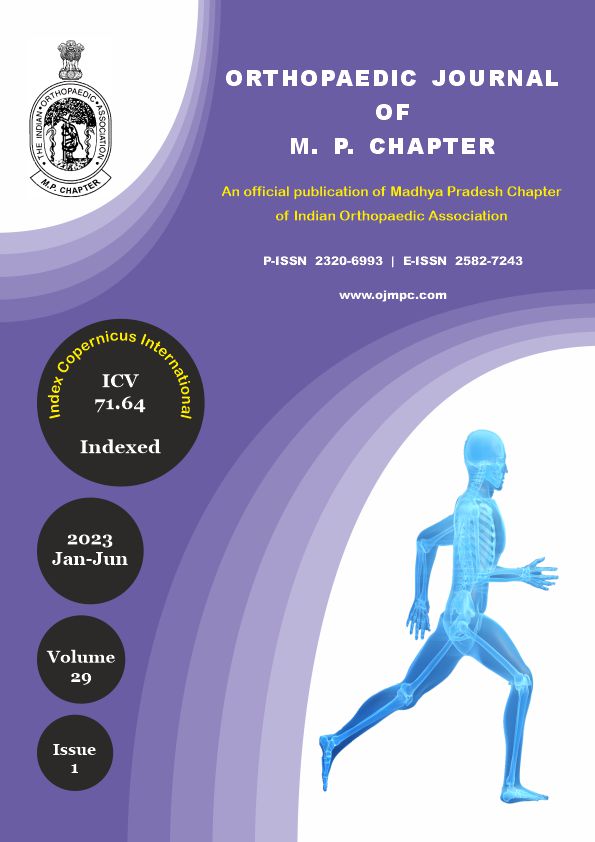 How to Cite
1.
Maravi LS, Sirsikar A, Vidyarthi A, Agamkant. Prospective study on outcome of distal radius treated with closed reduction and percutaneous pinning. ojmpc [Internet]. 2023Jul.31 [cited 2023Oct.1];29(01). Available from: https://ojmpc.com/index.php/ojmpc/article/view/168