Standard care of management in Orthopaedic patient during COVID 19 Pandemic: An Institution based guideline
Macwan A A

Kalinga Institute of Medical Science Bhubaneswar, Odisha

Nanda S N

Kalinga Institute of Medical Science Bhubaneswar, Odisha

Samant S

Kalinga Institute of Medical Science Bhubaneswar, Odisha

Gachhayat A

Kalinga Institute of Medical Science Bhubaneswar, Odisha

Patel E

Kalinga Institute of Medical Science Bhubaneswar, Odisha

Mohanty A

Kalinga Institute of Medical Science Bhubaneswar, Odisha
Keywords:
covid19, orthopedic care, institution guideline, standard care, trauma, hospital care
Abstract
SARS-CoV 2 pandemic has been spread around the world, the developing countries like India with enormous population, the health care system has been exhausted with patients. Social distancing, using three layered face mask, frequent use of sanitization is helpful preventing measure to spread of these deadly virus. There are no clear cut guidelines available in management of Orthopaedic patients till now. The disease and mortality burden will increase eventually without the effective vaccine and medications. With this ongoing pandemic managing elective orthopaedic surgeries and delayed trauma is a challenge. There should be effective protocol to manage emergency cases with optimum care and formulate standard postoperative rehabilitation strategy to deal with the situation. Orthopaedics training is also affected by this pandemic and that should be taken care of with appropriate measures. This article will help the surgeons and hospitals to formulate proper strategies in managing the patients and to face challenges presented in current pandemic situation. It will guide them to re-establish the orthopaedic care and to face future challenges.
Downloads
Download data is not yet available.
References
Li H, Liu SM, Yu XH, Tang SL, Tang CK. Coronavirus disease 2019 (COVID-19): current status and future perspectives. Int J Antimicrob Agents. 2020;55(5):105951. doi:10.1016/j.ijantimicag.2020.105951
World Health Organization. Statement on the Second Meeting of the International Health Regulations. Emergency Committee regarding the outbreak of novel coronavirus (2019-nCoV). 2005. https ://www.who.int/news-room/detai l/30-01-2020-state menton- the-secon dmeet ing-of-the-inter natio nal-healt h-regul ation s-(2005)-emerg ency-commi ttee-regar ding-the-outbr eak-of-novel coron aviru s-(2019-ncov). Accessed 17 Feb 2020.
Coronavirus disease (COVID-19)/https://www.who.int/emergencies/diseases/novel-coronavirus-2019/World Health Organization/December 07, 2020
Ghosh A, Nundy S, Mallick TK. How India is dealing with COVID-19 pandemic. Sensors International. 2020;1:100021. doi:10.1016/j.sintl.2020.100021
Kumar R, Pal R. India achieves WHO recommended doctor population ratio: A call for paradigm shift in public health discourse!. J Family Med Prim Care. 2018;7(5):841-844. doi:10.4103/jfmpc.jfmpc_218_18
Ministry of Health and Family Welfare/https://www.mohfw.gov.in/MoHFW
Venkata-Subramani M, Roman J. The Coronavirus Response in India - World's Largest Lockdown. Am J Med Sci. 2020;360(6):742-748. doi:10.1016/j.amjms.2020.08.002
Humbyrd CJ, Dunham AM, Xu AL, Rieder TN. Restarting Orthopaedic Care in a Pandemic: Ethical Framework and Case Examples. J Am Acad Orthop Surg. 2020 Nov 2. doi: 10.5435/JAAOS-D-20-00871. Epub ahead of print. PMID: 33156215.
CovidSurg Collaborative, Nepogodiev D, Bhangu A (2020) Elective surgery cancellations due to the COVID-19 pandemic: global predictive modelling to inform surgical recovery plans. Br J Surg 12. 10.1002/bjs.11746.
Tuech JJ, Gangloff A, Schwarz L (2020) Our challenge is to adapt the organization of our system to the six stages of the epidemic to go beyond the COVID-19 crisis. Br J Surg. 10.1002/bjs.11639
Neradi D, Hooda A, Shetty A, Kumar D, Salaria AK, Goni V. Management of Orthopaedic Patients During COVID-19 Pandemic in India: A Guide. Indian J Orthop. 2020;54(3):402-407. Published 2020 Apr 27. doi:10.1007/s43465-020-00122-6
Kumar, S., Shah, B., Johari, A. et al. Covid-19 Pandemic: Resumption of Orthopedic Care and Medical Education. JOIO 55, 506–515 (2021). https://doi.org/10.1007/s43465-021-00379-5
Mohit Kumar Patralekh, Vijay Kumar Jain, Karthikeyan P. Iyengar, Gaurav Kumar Upadhyaya, Raju Vaishya,Mortality escalates in patients of proximal femoral fractures with COVID-19: A systematic review and meta-analysis of 35 studies on 4255 patients, Journal of Clinical Orthopaedics and Trauma,Volume 18,2021,Pages 80-93, https://doi.org/10.1016/j.jcot.2021.03.023.
Macdougall, C., Dangerfeld, P., Katz, D., & Strain, W. (2020). The impact of COVID-19 on Medical education and Medical Students. How and when can they return to placements? MedEdPublish, 9(1), 159. https://doi.org/10.15694/mep.2020.000159.1. https://pib.gov.in/PressReleasePage.aspx?PRID=1720166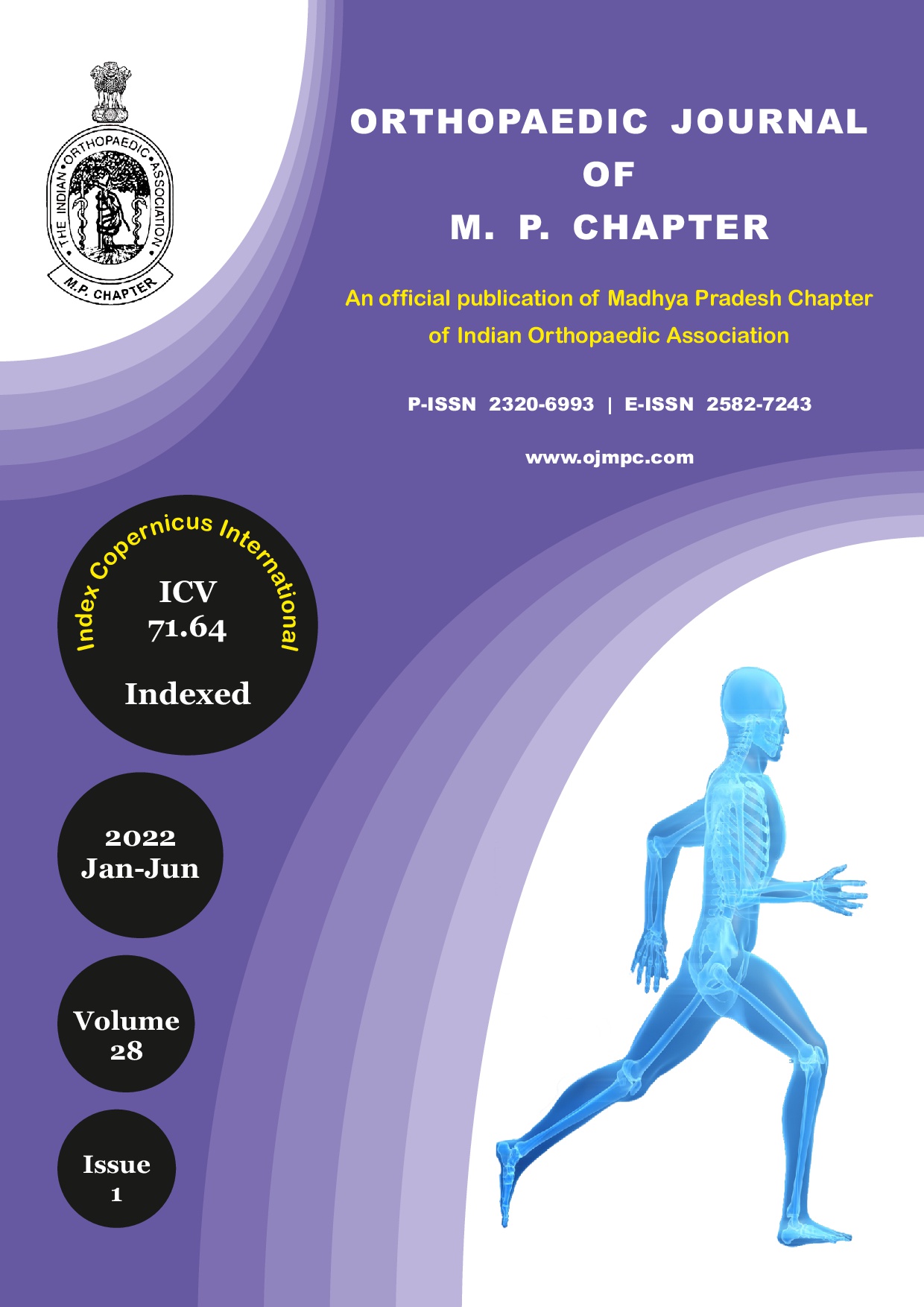 How to Cite
1.
Macwan AA, Nanda S N, Samant S, Gachhayat A, Patel E, Mohanty A. Standard care of management in Orthopaedic patient during COVID 19 Pandemic: An Institution based guideline. ojmpc [Internet]. 2022Jul.1 [cited 2023Dec.7];28(01):2-. Available from: https://ojmpc.com/index.php/ojmpc/article/view/150