Functional Outcome Of Bilateral Total Hip Arthroplasty by Posterolateral Approach: A Prospective Study in Indian Population
Choudhari P

Study performed at Department of Orthopaedics, Sri Aurobindo Institute of Medical College & Post Graduate Institute, Indore (M.P.)

Jain N

Study performed at Department of Orthopaedics, Sri Aurobindo Institute of Medical College & Post Graduate Institute, Indore (M.P.)

Jain S

Study performed at Department of Orthopaedics, Sri Aurobindo Institute of Medical College & Post Graduate Institute, Indore (M.P.)

Chauhan R

Study performed at Department of Orthopaedics, Sri Aurobindo Institute of Medical College & Post Graduate Institute, Indore (M.P.)
Keywords:
Arthroplasty, Hip, Bilateral, Avascular necrosis
Abstract
Background: Total hip arthroplasty (THA) is the most widely accepted surgical procedure for the treatment of Avascular necrosis of femoral head, with favourable clinical outcomes having been reported in various studies. Most patients that undergo THA suffer from primary osteoarthritis. The posterolateral (Moore's) approach to hip permits easy access with fewer tissue dissection and blood loss while raising the risk of neural injury and postoperative dislocation of the prosthesis.
Material and Methods: This longitudinal study was conducted on 50 arthritic hips (25 patient) operated by a single surgeon with Bilateral THA via posterolateral approach (Southern Moore's approach). All patients with bilateral osteoarthritis of hip secondary to avascular necrosis of hip (grade III or IV) more than 18 years of age, patients with normal septic profile and patients who were willing to undergo total hip arthroplasty according to our protocol were included in the study. The patients were followed up at the end of 6 weeks, 3 months and six months postoperatively after bilateral THA.
Results: Among 25 patients in this study, 20 patients (80%) were males and 5 patients (20%) were females. All the patients were between 18 to 60 years of age. The most common etiology for AVN was idiopathic in 11 patients (44%) followed by Steroid abuse in 8 patients (32%).The most common complication encountered in our study was Limb length discrepancy (LLD) in 3 patients (12%) followed by Posterior Dislocation of hip in 2 patients (8%). The mean pre op HHS was 28.22 and 26.73 for right and left hip which improved significantly post operatively with HHS of 82.36 after 6 months post operatively which suggest excellent improvement in clinical outcome.
Conclusion: Uncemented bilateral THA can be used in patients with excellent to good functional outcome at midterm follow-up, high satisfaction rate and lower rate of complications. Longer follow-up and multi-centric studies with larger sample size are necessary to establish confirmatory results.
Downloads
Download data is not yet available.
References
1. Johannson HR, Zywiel MG, Marker DR, Jones LC, McGrath MS, Mont MA. Osteonecrosis is not a predictor of poor outcomes in primary total hip arthroplasty: a systematic literature review. Int Orthop 2011;35:465–73.
2. Kim YH, Choi Y, Kim JS. Cementless total hip arthroplasty with ceramic-on-ceramic bearing in patients younger than 45 years with femoral-head osteonecrosis. Int Orthop 2010;34:1123–7.
3. Bedard NA, Callaghan JJ, Liu SS, Greiner JJ, Klaassen AL, Johnston RC. Cementless THA for the treatment of Osteonecrosis at 10-year follow-up: have we improved compared to cemented THA? J Arthroplasty 2013;28:1192–9.
4. Kim YG, Kim SY, Park BC, Kim PT, Ihn JC, Kim ID. Uncemented Harris-Galante total hip arthroplasty in patients with osteonecrosis of the femoral head. A 10-16-year follow-up study. Acta Orthop 2005;76:42–8.
5. Han SI, Lee JH, Kim JW, Oh CW, Kim SY. Long-term durability of the CLS femoral prosthesis in patients with osteonecrosis of the femoral head. J Arthroplasty 2013;28:828–31.
6. Romagnoli S, Sacchetti S, Perazzo P, et al. Simultaneous bilateral total hip arthroplasties do not lead to a higher complication or allogeneic transfusion rates compared to unilateral procedures. Int Orthop 2013;37:2125-30.
7. Jones CA, Pohar S. Health-related quality of life after total joint arthroplasty: a scoping review. Clin Geriatric Med 2012;28:395-429.
8. Laursen JO, Husted H, Mossing NB. One-stage bilateral total hip arthroplasty a simultaneous procedure in 79 patients. Acta Orthop Belg 2000;66:265-71.
9. Sayeed SA, Johnson AJ, Jaffe DE, et al. Incidence of contralateral THA after index THA for osteoarthritis. Clin Orthop Relat Res 2012;470:535–40.
10. Goker B, Block JA. Risk of contralateral avascular necrosis (AVN) after total hip arthroplasty (THA) for non-traumatic AVN. Rheumatol Int 2006;26:215–9.
11. Learmonth ID, Young C, Rorabeck C. The operation of the century: total hip replacement. Lancet 2007;370:1508-19.
12. Masonis JL, Bourne RB. Surgical approach, abductor function, and total hip arthroplasty dislocation. Clin Orthop Rel Res 2002;405:46-53.
13. Inngul C, Blomfeldt R, Ponzer S, Enocson A. Cemented versus uncemented arthroplasty in patients with a displaced fracture of the femoral neck: A randomized controlled trial. Bone Joint J 2015;97: 1475‑80.
14. Pennington M, Grieve R, Sekhon JS, Gregg P, Black N, et al. Cemented, cementless and hybrid prostheses for total hip replacement: a Cost-effectiveness analysis. BMJ 2013;27:346:f1026.
15. Thompson R, Kane RL, Gromala T, McLaughlin B, Flood S, et al. Complications and short‑term outcomes associated with total hip arthroplasty in teaching and community hospitals. J Arthroplasty 2002;17:32-40.
16. Mizra SB, Dunlop DG, Panesar SS. Basic science considerations in primary total hip replacement arthroplasty. Open Orthop J 2010;4:169-80.
17. Angerame MR, Dennis DA. Surgical approaches for total hip arthroplasty. Ann Joint 2018;3:43.
18. Moretti VM, Post ZD. Surgical approaches for total hip arthroplasty. Indian J Orthop 2017;51:368-76.
19. Blemfeldt R, Tornkvist H, Eriksson K. A randomized controlled trial comparing bipolar hemiarthroplasty with the total hip replacement for displaced intracapsular fractures of the femoral neck in elderly patients. J Bone Joint Surg Br 2007;89:160-5.
20. Morshed S, Bozic KJ, Ries MD, Malchau H, Colford JM. Comparison of cemented and uncemented fixation in total replacement: A meta‑analysis. Acta Orthop 2007;78:315‑26.
21. Espehaug B, Furnes O, Engesaeter LB. 18 years of results with cemented primary hip prostheses in the Norwegian Arthroplasty Register. Acta Orthop 2009;80:402-12.
22. Wade R, Shah KA, Functional and Radiological outcome of Uncemented Total Hip Arthroplasty in Young Adults 5-year follow-up. J Orthop. 2020;18:237-9.
23. Goyal D, Bansal M, Lamoria R. Comparative study of functional outcome of cemented and uncemented total hip replacement. J Orthop Traumatol Rehabil 2018;10:23-8.
24. Mäkelä KT, Matilainen M, Pulkkinen P. Country wise results of total hip replacement. Acta Orthop 2014;85:107-16.
25. Zimmerma S, Hawkes WG, Hudson JI, Magaziner J, Hebel JR, et al. Outcomes of surgical management of total hip replacement in patients aged 65 years and older: Cemented versus cementless femoral components and lateral or anterolateral versus posterior anatomical approach. J Orthop Res 2014;20:182‑91.
26. Potter HG, Foo L, Nestor B. What is the role of magnetic resonance imaging in the evaluation of total hip arthroplasty? HSS J 2005;1:89-93.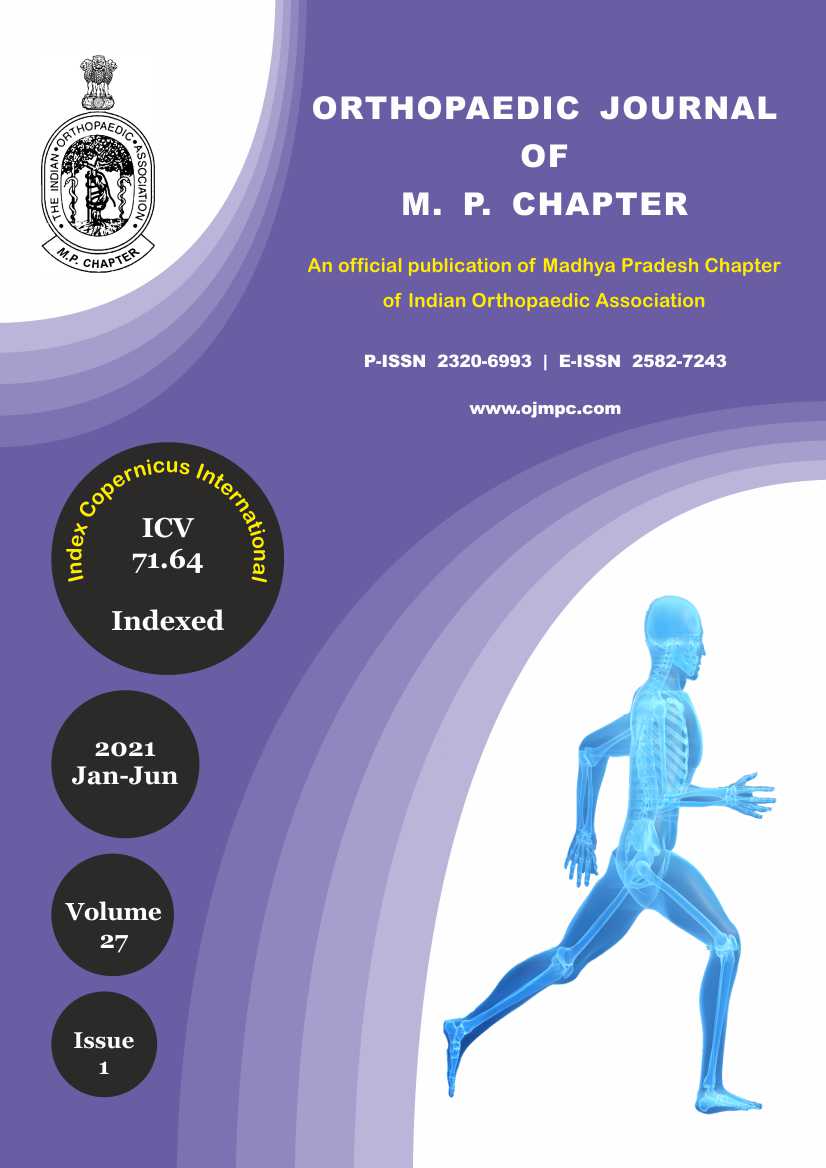 How to Cite
1.
Choudhari P, Jain N, Jain S, Chauhan R. Functional Outcome Of Bilateral Total Hip Arthroplasty by Posterolateral Approach: A Prospective Study in Indian Population. ojmpc [Internet]. 2020Dec.31 [cited 2021May17];27(1):37-1. Available from: https://ojmpc.com/index.php/ojmpc/article/view/132
This work is licensed under a Creative Commons Attribution-NonCommercial-NoDerivatives 4.0 International License.