Etiology Of Avascular Necrosis Of Femoral Head In Population Of Malwa Region In Madhya Pradesh
Choudhari P

Department of Orthopaedics, Sri Aurobindo Institute of Medical Science & Post Graduate Institute, Indore (M.P.)

Deshpande M

Department of Orthopaedics, Sri Aurobindo Institute of Medical Science & Post Graduate Institute, Indore (M.P.)

Jain N

Department of Orthopaedics, Sri Aurobindo Institute of Medical Science & Post Graduate Institute, Indore (M.P.)

Prajapati R

Department of Orthopaedics, Sri Aurobindo Institute of Medical Science & Post Graduate Institute, Indore (M.P.)
Keywords:
Avascular necrosis, Osteonecrosis, Malwa region
Abstract
Background: Osteonecrosis is characterized by bone cell death following, decrease in blood supply to the bone due to traumatic or non-traumatic cause. We evaluated the etiology of osteonecrosis of femoral head in population of Malwa region of Madhya Pradesh.
Material and Methods: This longitudinal study was conducted from January 2018 to Jan 2020 in patients diagnosed with avascular necrosis of femoral head, which were evaluated, examined and investigated to know the etiology of the disease.
Results: 70 cases with mean age of 39 years (55 males and 15 females) were included. Bilateral involvement was seen in 20 (29%) cases, whereas 50 (71%) cases had unilateral involvement. Idiopathic AVN was most common cause of the osteonecrosis as seen in 27 (39%) cases followed by steroid induced AVN in 12 (17%), post traumatic in 13 (19%) cases, alcohol induced in 8 cases (11%), both alcohol and steroid induced in 2 (3%) cases and sickle cell anaemia was seen in 8 (11%) cases.
Conclusion: Our results showed that most common cause of osteonecrosis of femoral head in population of Malwa region of Madhya Pradesh is idiopathic followed by trauma, steroid induced and then alcoholism or sickle cell anemia. Most commonly affected people are in age group of 26-40 years with male preponderance. Appearance of disease is more, unilateral as compared to bilateral.
Downloads
Download data is not yet available.
References
1. Mankin HJ. Nontraumatic necrosis of bone (osteonecrosis). N Engl J Med. 1992;28:326(22):1473-9.
2. Malizos KN, Karantanas AH, Varitimidis SE, Dailiana ZH, Bargiotas K, Maris T. Osteonecrosis of the femoral head: etiology, imaging and treatment. Eur J Radiol. 2007;63(1):16-28.
3. Aaron RK, Gray R. Osteonecrosis: etiology, natural history, pathophysiology, and diagnosis. In: Callaghan JJ, Rosenberg AG, Rubash HE, editors. The adult hip. Philadelphia: Lippincott Williams & Wilkins; 2007. pp 465–76.
4. Assouline-Dayan Y, Chang C, Greenspan A, Shoenfeld Y, Gershwin ME. Pathogenesis and natural history of osteonecrosis. Semin Arthritis Rheum. 2002;32(2):94-124.
5. Sakaguchi M, Tanaka T, Fukushima W, Kubo T, Hirota Y. Idiopathic ONF Multicenter Case-Control Study Group. Impact of oral corticosteroid use for idiopathic osteonecrosis of the femoral head: a nationwide multicenter case-control study in Japan. J Orthop Sci. 2010;15(2):185-91.
6. Saito M, Ueshima K, Ishida M, Hayashi S, Ikegami A, Oda R, et al. Alcohol-associated osteonecrosis of the femoral head with subsequent development in the contralateral hip: A report of two cases. J Orthop Sci. 2016;21:870–4.
7. Klumpp R, Trevisan C. Aseptic osteonecrosis of the hip in the adult: Current evidence on conservative treatment. Clin Cases Miner Bone Metab. 2015;12:39–42.
8. Kubo T, Ueshima K, Saito M, Ishida M, Arai Y, Fujiwara H, et al. Clinical and basic research on steroid-induced osteonecrosis of the femoral head in Japan. J Orthop Sci. 2016;21:407–13.
9. Mont MA, Jones LC, Hungerford DS. Nontraumatic osteonecrosis of the femoral head: Ten years later. J Bone Joint Surg Am. 2006;88:1117–32.
10. Gold M, Varacallo M: Anatomy, bony pelvis and lower limb, hip joint. Stat Pearls Publishing, Treasure Island, FL; 2019 pp 1-19.
11. Narayanan A, Khanchandani P, Borkar RM, Ambati CR, Roy A, Han X, Bhoskar RN, Ragampeta S, Gannon F, Mysorekar V, Karanam B, V SM, Sivaramakrishnan V. Avascular Necrosis of Femoral Head: A Metabolomic, Biophysical, Biochemical, Electron Microscopic and Histopathological Characterization. Sci Rep. 2017:6;7(1):10721.
12. Xie XH, Wang XL, Yang HL, Zhao DW, Qin L. Steroid-associated osteonecrosis: Epidemiology, pathophysiology, animal model, prevention, and potential treatments (an overview). J Orthop Translat. 2015;3(2):58-70.
13. Jaffré C, Rochefort GY. Alcohol-induced osteonecrosis--dose and duration effects. Int J Exp Pathol. 2012;93(1):78-9.
14. Mok MY, Farewell VT, Isenberg DA. Risk factors for avascular necrosis of bone in patients with systemic lupus erythematosus: is there a role for antiphospholipid antibodies? Ann Rheum Dis. 2000;59(6):462-7.
15. Vardhan H, Tripathy SK, Sen RK, Aggarwal S, Goyal T. Epidemiological Profile of Femoral Head Osteonecrosis in the North Indian Population. Indian J Orthop. 2018;52(2):140-6.
16. Orlic D, Jovanovic S, Anticevic D, Zecevic J. Frequency of idiopathic aseptic necrosis in medically treated alcoholics. Int Orthop. 1990;14(4):383–6.
17. Mont MA, Pivec R, Banerjee S, Issa K, Elmallah RK, Jones LC. High-Dose Corticosteroid Use and Risk of Hip Osteonecrosis: Meta-Analysis and Systematic Literature Review. J Arthroplasty. 2015;30(9):1506-12.e5.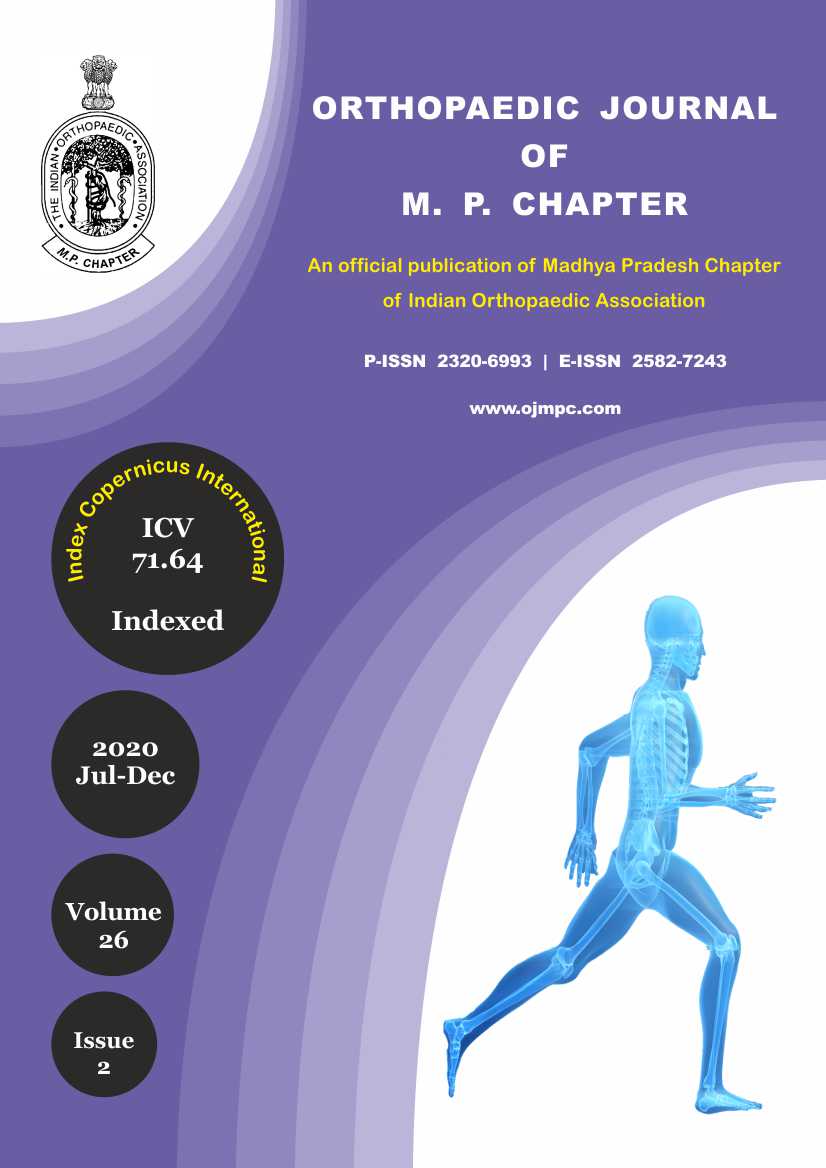 How to Cite
1.
Choudhari P, Deshpande M, Jain N, Prajapati R. Etiology Of Avascular Necrosis Of Femoral Head In Population Of Malwa Region In Madhya Pradesh. ojmpc [Internet]. 2020Dec.16 [cited 2021Jan.21];26(2):90-4. Available from: https://ojmpc.com/index.php/ojmpc/article/view/125
This work is licensed under a Creative Commons Attribution-NonCommercial-NoDerivatives 4.0 International License.