Outcome of Modified Wiltse Paramedian Approach For Fusion Of Single Level Lower Lumbar Spinal Instability
Pandey KK

Professor Netaji Subash Chandra Bose Medical College, Jabalpur (M.P.)

Peepra D

Study performed at Netaji Subash Chandra Bose Medical College, Jabalpur (M.P.)

Pawar S

Study performed at Netaji Subash Chandra Bose Medical College, Jabalpur (M.P.)
Keywords:
Wiltse approach, Paraspinal approach, Trans-sacrospinalis approach
Abstract
In one way, conventional open posterior midline approach for pedicle screws fixation for  lower lumbar pathology is usually associated with significant para spinal muscle damage and mobility and in other way , recently used minimally invasive percutaneous pedicle screw fixation techniques have higher radiation exposure . Thus in midway between two Modified Wiltse paramedian  approach may still provide the muscle sparing with minimal morbidity and radiation safety. We retrospectively evaluated the outcome of 12 patients of single level of lumbar instability  at L4-L5 or at L5-S1 which included 2 patients with L5 vertebral body burst fracture, 6 patients with L4L5 ishthmic spondylolisthesis and 4 patients with L5S1  Ishthmic spondylolisthesis.  There were 4 male patients and 8 female patients  with age range from 16 years to 45 years ( mean age of 34.6 years). The procedure was completed with less than 150 ml estimated blood loss.  The average C arm exposure was 10.5.The average length of post operative  stay was 3.5 days. There was no intraoperative neurological complications. Stitches were removed at 14th postoperative day and followed monthly for three months and 3 monthly upto 1 year . The mean preoperative VAS score ( 8.3) improved to the mean postoperative VAS score (3.2) in 3rd post op day and 1.2  by 1 year with no use of analgesic medications.
Downloads
Download data is not yet available.
References
Kim CW. Scientific basis of minimally invasive spine surgery: prevention of multifidus muscle injury during posterior lumbar surgery. Spine (Phila Pa 1976). 2010;35:281-6.
Wiltse LL, Bateman JG, Hutchinson RH, Nelson WE. The paraspinal sacrospinalis-splitting approach to the lumbar spine. J Bone Joint Surg Am. 1968;50(5):919-26.
Wiltse LL. The paraspinal sacrospinalis-splitting approach to the lumbar spine. Clin Orthop Relat Res. 1973;91:48-57.
Wiltse LL, Spencer CW. New uses and refinements of the paraspinal approach to the lumbar spine. Spine (Phila Pa 1976). 1988;13(6):696-706.
Waschke A, Hartmann C, Walter J, Dunisch P, Wahnschaff F, Kalff R, Ewald C. Denervation and atrophy of paraspinal muscles after open lumbar interbody fusion is associated with clinical outcome electromyographic and CT-volumetric investigation of 30 patients. Acta Neurochir (Wien). 2014;156(2):235-44.
Pourtaheri S, Issa K, Lord E, Ajiboye R, Drysch A, Hwang Ki, Faloon M, Sinha K, Emami A. Paraspinal Muscle Atrophy After Lumbar Spine Surgery. Orthop. 2016;39(2):209-14.
Li, H., Yang, L., Xie, H., Yum, L., Wei, H. and Cao, X. Surgical Outcomes of Mini-Open Wiltse Approach and Conventional Open Approach in Patients with Single-Segment Thoracolumbar Fractures without Neurologic Injury. J Biomedical Res. 2015;29:76-82.
Rantanen J, Hurme M, Falck B, et al. The lumbar multifidus muscle five years after surgery for a lumbar intervertebral disc herniation. Spine.1993;18(5):568-74.
Mayer TG, Vanharanta H, Gatchel RJ, et al. Comparison of CT scan muscle measurements and isokinetic trunk strength in postoperative patients. Spine. 1989;14(1):33-6.
Kawaguchi Y, Yabuki S, Styf J, et al. Back muscle injury after posterior lumbar spine surgery. Topographic evaluation of intramuscular pressure and blood flow in the porcine back muscle during surgery. Spine. 1996;21(22):2683-8.
Kawaguchi Y, Matsui H, Tsuji H. Back muscle injury after posterior lumbar spine surgery. Part 2: Histologic and histochemical analyses in humans. Spine. 1994;19(22):2598-602.
Sihvonen T, Herno A, Paljarvi L, Airaksinen O, Partanen J, Tapaninaho A. Local denervation atrophy of paraspinal muscles in postoperative failed back syndrome. Spine. 1993;18(5):575-81.
Stevens KJ, Spenciner DB, Griffiths KL, et al. Comparison of minimally invasive and conventional open posterolateral lumbar fusion using magnetic resonance imaging and retraction pressure studies. J Spinal Disord Tech. 2006;19(2):77-86.
Fan SW, Hu ZJ, Fang XQ, Zhao FD, Huang Y, Yu HJ. Comparison of paraspinal muscle injury in one-level lumbar posterior inter-body fusion: modified minimally invasive and traditional open approaches. Orthop Surg. 2010;2(3):194-200.
Vialle R, Wicart P, Drain O, Dubousset J, Court C. The Wiltse Paraspinal Approach to the Lumbar Spine Revisited: An Anatomic Study. Clin Orthop Relat Res. 2006;445:175-80.
Olivier E, Beldame J, Slimane M, Defives T, Duparc F. Comparison between one midline cutaneous incision and two lateral incisions in the lumbar paraspinal approach by Wiltse: A cadaver study. Surg Radiol Anat. 2006;28:494–7.
Street JT, Andrew Glennie R, Dea N, DiPaola C, Wang Z, Boyd M, Paquette SJ, Kwon BK, Dvorak MF, Fisher CG. A comparison of the Wiltse versus midline approaches in degenerative conditions of the lumbar spine. J Neurosurg Spine. 2016;25(3):332-8.
Anekstein Y, Brosh T, Mirovsky Y. Intermediate screws in short segment pedicular fixation for thoracic and lumbar fractures: a biomechanical study. J Spinal Disord Tech. 2007;20(1):72-7.
Anand N, Baron EM, Bray RS Jr. Modified muscle-sparing paraspinal approach for stabilization and interlaminar decompression: a minimally invasive technique for pedicle screw-based posterior nonfusion stabilization. SAS J. 2008;2(1):40-2.
Behairy HM. Utilizing Wiltse approach for minimal access posterolateral lumbar stabilization. Open J Modern Neurosurg. 2018;8:101-8.
Shah RR, Mohammed S, Saifuddin A, Taylor BA. Radiologic evaluation of adjacent superior segment facet joint violation following transpedicular instrumentation of the lumbar spine. Spine. 2003;28(3):272-5.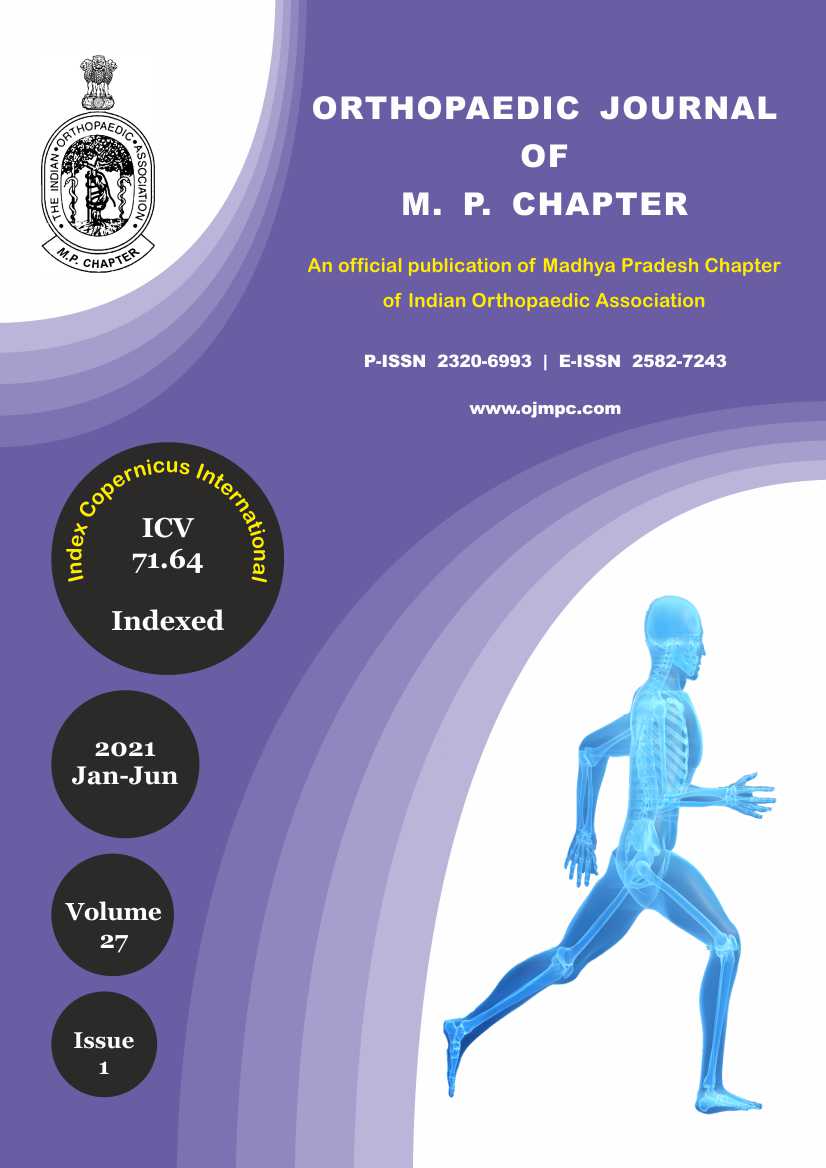 How to Cite
1.
Pandey KK, Peepra D, Pawar S. Outcome of Modified Wiltse Paramedian Approach For Fusion Of Single Level Lower Lumbar Spinal Instability. ojmpc [Internet]. 2020Dec.31 [cited 2023Dec.7];27(1):10-4. Available from: https://ojmpc.com/index.php/ojmpc/article/view/115