Hypovitaminosis D In Elderly Patients Presenting With Fractures
Shan ZH

Department of Orthopaedics, Jawaharlal Nehru Medical College & Hospital, Aligarh Muslim University (AMU), Aligarh (UP), India

Alvi Y

Department of Orthopaedics, Jawaharlal Nehru Medical College & Hospital, Aligarh Muslim University (AMU), Aligarh (UP), India

Ahmad S

Department of Orthopaedics, Jawaharlal Nehru Medical College & Hospital, Aligarh Muslim University (AMU), Aligarh (UP), India

Jilani LZ

Department of Orthopaedics, Jawaharlal Nehru Medical College & Hospital, Aligarh Muslim University (AMU), Aligarh (UP), India

Faizan M

Department of Orthopaedics, Jawaharlal Nehru Medical College & Hospital, Aligarh Muslim University (AMU), Aligarh (UP), India

Asif N

Department of Orthopaedics, Jawaharlal Nehru Medical College & Hospital, Aligarh Muslim University (AMU), Aligarh (UP), India
Keywords:
Vitamin D deficiency, Serum 25(OH)D, Hypovitaminosis D, Ageing
Abstract
Background: Vitamin D deficiency is seen in all races, age groups and ethnic backgrounds. It is estimated to affect more than one billion people worldwide. This study was done to find out vitamin D levels and its associated factors among elderly patients presenting with fractures.
Material and method: This cross-sectional study was performed at our tertiary care hospital, in patients above 45 years, presenting with fracture as a result of trivial trauma. In all patients serum 25(OH)D level was measured. A level of serum 25(OH)D < 10 ng/ml was labeled as the deficiency, between 10 to 29 ng/ml as insufficient and ≥ 30 ng/ml as sufficient.
Results: A total of 102 patients were included in our study with mean age of 60.8 ± 13.4 years, out of which 60 were males and 42 females. Mean serum 25(OH)D level in our study population was 15.82 ± 5.88 ng/ml. We found 94.1% of the patients were having a low level of serum 25(OH)D i.e. less than 30 ng/ml, with 78.4% insufficient (between 10 to 29 ng/ml) and 15.6% deficient levels (below 10 ng/ml). Higher age, female, menopause and lack of sunlight exposure were found to be significantly associated with lower vitamin D levels.
Conclusion: This study gives us important inside of a high prevalence of hypovitaminosis D in elderly patients. Detection and prompt intervention of vitamin D deficiency at an early stage can be helpful in decreasing the fracture in these elderly.
Downloads
Download data is not yet available.
References
1. Skaria J, Katiyar BC, Srivastava TP, Dube B. Myopathy and neuropathy associated with osteomalacia. Acta Neurol Scand. 1975;51:37–58.

2. Reginster JY. The high prevalence of inadequate serum vitamin D levels and implications for bone health. Curr Med Res Opin. 2005;21:579–85.

3. Harinarayan CV, Ramalakshmi T, Venkataprasad U. High prevalence of low dietary calcium and low vitamin D status in healthy south Indians. Asia-Pac J Clin Nutr. 2004;13:359–64.

4. Lips P. Vitamin D deficiency and secondary hyperparathyroidism in the elderly: consequences for bone loss and fractures and therapeutic implications. Endocr Rev. 2001;22:477–501.

5. Bischoff-Ferrari HA, Willett WC, Wong JB, Stuck AE, Staehelin HB, Orav EJ, et al. Prevention of nonvertebral fractures with oral vitamin D and dose dependency. Arch Int Med. 2009;169:551.

6. Ritu G, Gupta A. Vitamin D deficiency in India: prevalence, causalities and interventions. Nutr. 2014;6:729–75.

7. Harinarayan CV, Joshi SR. Vitamin D status in India - its implications and remedial measures. J Assoc Physicians India. 2009;57:40–8.

8. Marwaha RK, Tandon N, Garg MK, Kanwar R, Narang A, Sastry A, et al. Vitamin D status in healthy Indians aged 50 years and above. J Assoc Physician India. 2011;59:706–9.

9. Harinarayan CV, Sachan A, Reddy PA, Satish KM, Prasad U V, Srivani P. Vitamin D status and bone mineral density in women of reproductive and postmenopausal age groups: a cross-sectional study from south India. J Assoc Physicians India. 2011;59:698–704

10. Sachan A, Gupta R, Das V, Agarwal A, Awasthi PK, Bhatia V. High prevalence of vitamin D deficiency among pregnant women and their newborns in northern India. Am J Clin Nutr. 2005;81:1060–4.

11. Economist T. Comparing Indian states and territories with countries: An Indian summary. The Economist 2011. http://www.economist.com/content/indian-summary (accessed March 8, 2018).

12. Looned K, Banerjee A, Landge J, Pandit D. Intergenerational decline in Vitamin D status: A cross-sectional study among medical students and their teachers. Int J Nutr Pharmacol Neurol Dis. 2017;7:12.

13. Thacher TD, Clarke BL. Vitamin D insufficiency. Mayo Clin Proc. 2011;86:50–60.

14. Dhanwal DK, Sahoo S, Gautam VK, Saha R. Hip fracture patients in India have vitamin D deficiency and secondary hyperparathyroidism. Osteoporos Int. 2013;24:553–7.

15. Paul TV, Selvan SA, Asha HS, Thomas N, Venkatesh K, Oommen AT, et al. Hypovitaminosis D and other risk factors of femoral neck fracture in South Indian postmenopausal women: a pilot study. J Clin Diagn Res 2015;9:19-22.

16. LeBoff MS, Kohlmeier L, Hurwitz S, Franklin J, Wright J, Glowacki J. Occult vitamin D deficiency in postmenopausal US women with acute hip fracture. JAMA. 1999;281:1505–11.

17. Maier GS, Seeger JB, Horas K, Roth KE, Kurth AA, Maus U. The prevalence of vitamin D deficiency in patients with vertebral fragility fractures. Bone Joint J. 2015;97–B:89–93.

18. Simonelli C, Weiss TW, Morancey J, Swanson L, Chen YT. Prevalence of vitamin D inadequacy in a minimal trauma fracture population. Curr Med Res Opin. 2005;21:1069–74.

19. Bischoff HA, Stähelin HB, Dick W, Akos R, Knecht M, Salis C, et al. Effects of Vitamin D and calcium supplementation on falls: a randomized controlled trial. J Bone Mineral Res 2003;18:343–51.

20. Trivedi DP, Doll R, Khaw KT. Effect of four monthly oral vitamin D3 (cholecalciferol) supplementation on fractures and mortality in men and women living in the community: randomised double blind controlled trial. BMJ (Clin Res Ed) 2003;326:469.

21. Bhat KA, Kakaji M, Awasthi A, Shukla M, Dubey M, Srivastava R, et al. High prevalence of osteoporosis and morphometric vertebral fractures in indian males aged 60 years and above: should age for screening be lowered? J Clin Densitom. 2018;21(4):517-23.

22. Arya V, Bhambri R, Godbole MM, Mithal A. Vitamin D status and its relationship with bone mineral density in healthy Asian Indians. Osteoporos Int. 2004;15:56–61.

23. Narang APS, Batra S, Sabharwal S, Ahuja SC. 1, 25-Dihydroxycholecalciferol (1,25-(OH)(2) D(3)) levels in osteoporosis. Ind J Clin Biochem 2004;19:111–3.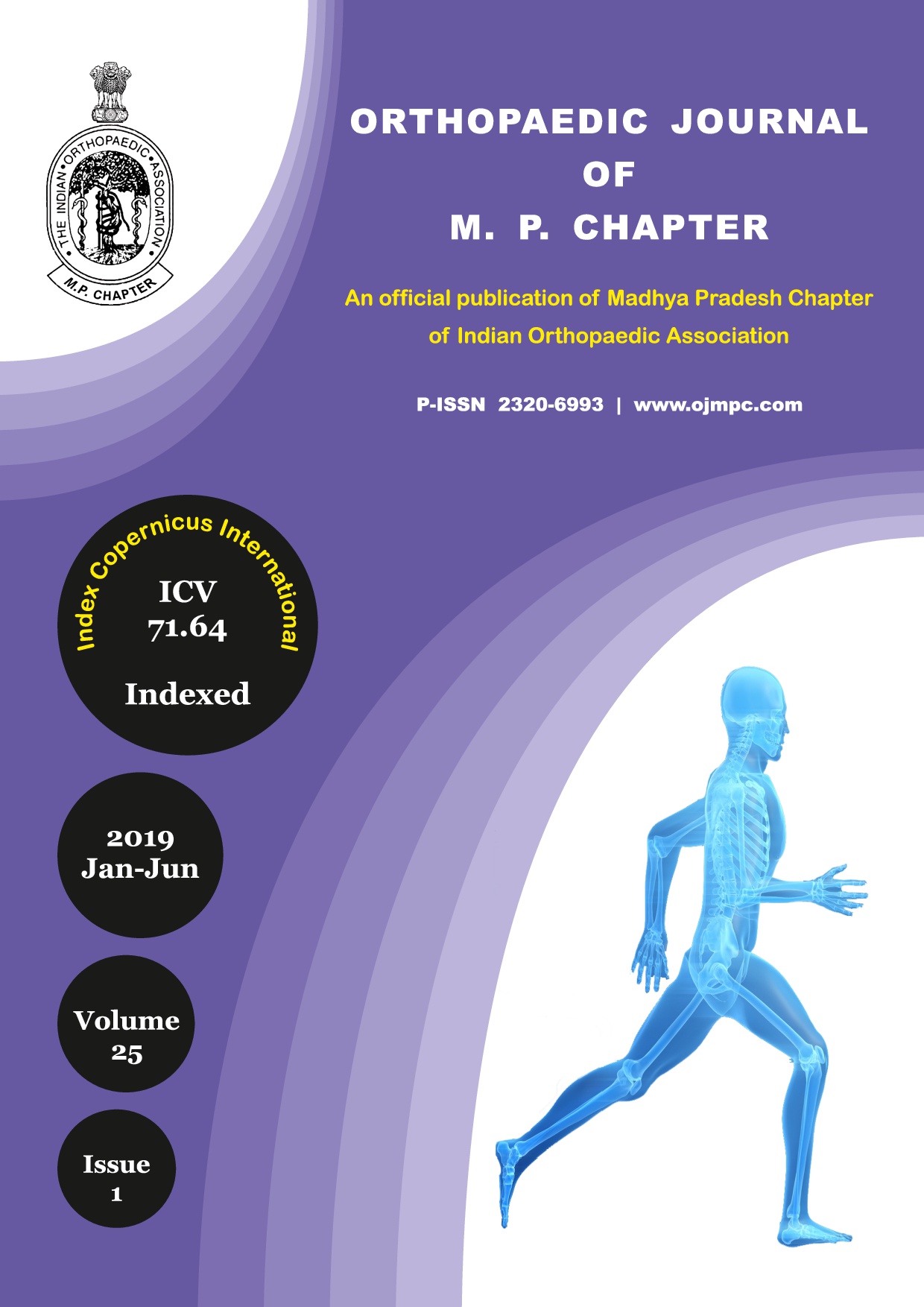 CITATION
DOI: 10.5281/zenodo.3969926
How to Cite
1.
Shan ZH, Alvi Y, Ahmad S, Jilani LZ, Faizan M, Asif N. Hypovitaminosis D In Elderly Patients Presenting With Fractures. ojmpc [Internet]. 2019Jun.30 [cited 2023Mar.31];25(1):17-2. Available from: https://ojmpc.com/index.php/ojmpc/article/view/72