A comparative study of fixation of fracture intertrochanteric femur with d.h.s. by m.i.s. versus conventional muscle reflection surgical approach
Dhakad R.K.S.

Assossiate Professor

Kapoor A.

A.D.M.O., N.R.C.H, N.R

Gupta S.

Profesor and Head
Keywords:
fracture intertrochanteric femur, dynamic hip screw and barrel plate, conventional muscle reflection approach, minimal invasive approach
Abstract
Background: Hip fractures are a common cause of morbidity and mortality and are associated with considerable health expenditure. The dynamic hip screw (DHS) has been the standard type of fixation for intertrochanteric fractures. We have used a prospective study design to ascertain the short/ long-term safety and effectiveness of a standardised DHS device inserted using a minimally invasive technique compared with the same implant inserted in a traditional fashion to manage fracture intertrochanteric femur.
Materials and Methods: In the period June 2011 to June 2012, all patients admitted in orthopaedic ward of Jayarogya Group of Hospitals with fracture intertrochanteric femur needing surgical fixation, were evaluated with inclusion/exclusion criterion.They were assigned randomly in minimally invasive DHS approach or a conventional open/muscle reflection approach group and evaluated for following outcome measures: duration of surgery, intraoperative blood loss, drain use/ output, requirement of blood transfusion intra/postoperatively, analgesic intake, length of hospital stay, rate of infection, time to mobilisation and weight bearing postoperatively & overall functional outcome.
Conclusion: Minimally invasive surgical techniques, as a whole, reduce operative complications and postoperative morbidity. Our study shows that, when compared with the conventional approach in the implantation of the DHS device, the minimally invasive surgical technique described here resulted in shorter duration of surgery and length of hospital stay, as well as less intraoperative blood loss. This is accomplished without compromising the stability of fracture fixation
Downloads
Download data is not yet available.
References
Alobaid A, Harvey EJ, Elder GM, Lander P, Guy P , Reindl R. Minimally invasive dynamic hip screw: prospective randomized trial of two techniques of insertion of a standard dynamic fixation device. J Orthop Trauma. 2004;18:207-212. doi: 10.1097/ 00005131-200404000-00003.

Baumgaertner MR, Curtin SL, Lindskog DM, Keggi JM. The value of the tip-apex distance in predicting failure of fixation of peritrochanteric fractures of the hip. J Bone Joint Surg Am. 1995;77:1058-1064.

Bolhofner BR, Russo PR, Carmen B. Results of intertrochanteric femur fractures treated with a 135degree sliding screw with a two-hole side plate. J Orthop Trauma. 1999;13:5-8. doi: 10.1097/ 00005131-199901000-00002.

Boufous S, Finch CF, Lord SR. Incidence of hip fracture in New South Wales: Are our efforts having an effect? Med J Aust. 2004;180:623-626.

Brandt SE, Lefever S, Janzing HM, Broos PL, Pilot P , Houben BJ. Percutaneous compression plating (PCCP) versus the dynamic hip screw for pertrochanteric hip fractures: preliminary results. Injury. 2002;33:413-418. doi: 10.1016/S00201383(02)00080-3.

Clague JE, Craddock E, Andrew G, Horan MA, Pendleton N. Predictors of outcome following hip fracture. Admission time predicts length of stay and in-hospital mortality. Injury. 2002;33:1-6. doi: 10.1016/S0020-1383(01)00142-5.

Craig NJ, Maffulli N. Subtrochanteric fractures: current management options. Disabil Rehabil. 2005;27:1181-1190. doi: 10.1080/ 09638280500055545.

DiPaola M, Rozbruch SR, Helfet DL. Minimal incision technique using a two-hole plate for fixation of stable intertrochanteric hip fractures. Orthopedics. 2004;27:270-274.

Dougall TW, Duthie R, Maffulli N, Hutchison JD. Antibiotic prophylaxis: theory and reality in orthopaedics. J R Coll Surg Edinb. 1996;41:321-322.

Douglas S, Bunyan A, Chiu KH, Twaddle B, Maffulli N. Seasonal variation of hip fracture at three latitudes. Injury. 2000;31:11-19. doi: 10.1016/S00201383(99)00192-8.

Ingman AM. Percutaneous intramedullary fixation of trochanteric fractures of the femur. Clinical trial of a new hip nail. Injury. 2000;31:483-487. doi: 10.1016/ S0020-1383(00)00027-9.

Kyle RF, Gustilo RB, Premer RF. Analysis of six hundred and twenty-two intertrochanteric hip fractures. J Bone Joint Surg Am. 1979;61:216-221.

Laohapoonrungsee A, Arpornchayanon O, Phornputkul C. Two-hole side-plate DHS in the treatment of intertrochanteric fracture: results and complications. Injury. 2005;36:1355-1360. doi: 10.1016/j.injury.2005.04.014.

Maffulli N, Dougall TW, Brown MT, Golden MH. Nutritional differences in patients with proximal femoral fractures. Age Ageing. 1999;28:458-462. doi: 10.1093/ageing/28.5.458.

McLoughlin SW, Wheeler DL, Rider J, Bolhofner B. Biomechanical evaluation of the dynamic hip screw with two- and four-hole side plates. J Orthop Trauma. 2000;14:318-323. doi: 10.1097/00005131200006000-00002.

Parker MJ, Handoll HH, Griffiths R (2004) Anaesthesia for hip fracture surgery in adults. Cochrane Database of Systematic Reviews CD000521.

Peyser A, Weil YA, Brocke L, Sela Y, Mosheiff R, Mattan Y, Manor O, Liebergall M. A prospective, randomised study comparing the percutaneous compression plate and the compression hip screw for the treatment of intertrochanteric fractures of the hip. J Bone Joint Surg Br. 2007;89:1210-1217. doi: 10.1302/0301-620X.89B9.18824.

Rose S, Maffulli N. Hip fractures. An epidemiological review. Bull Hosp Jt Dis. 1999;58:197-201.

Shabat S, Mann G, Nyska M, Maffulli N. Scoring systems to evaluate elderly patients with hip fractures. Disabil Rehabil. 2005;27:1041-1044. doi: 10.1080/ 09638280500056642.

Shah MR, Aharonoff GB, Wolinsky P, Zuckerman JD, Koval KJ (2003) Outcome after hip fracture in individuals ninety years of age and older. J Orthop Trauma:S6-11.

Tarantino U, Oliva F, Impagliazzo A, Mattei A, Cannata G, Pompili GF, Maffulli N. A comparative prospective study of dynamic variable angle hip screw and gamma nail in intertrochanteric hip fractures. Disabil Rehabil. 2005;27:1157-1165. doi: 10.1080/ 09638280500055875.

Verhofstad MH, Werken C. DHS osteosynthesis for stable pertrochanteric femur fractures with a two-hole side plate. Injury. 2004;35:999-1002. doi: 10.1016/ j.injury.2003.10.030.Saarenpaa I, Partanen J, Jalovaara P. Basicervical fracture-a rare type of hip fracture. Arch Orthop Trauma Surg 2002;122:69.

W. Michael Ho,1 Giorgio Garau,2 Gayle Walley,1 Francesco Oliva,3 Alfredo Schiavone Panni,4 Umile Giuseppe Longo,5 and Nicola Maffulli;Minimally invasive dynamic hip screw for fixation of hip fractures;Int Orthop. 2009 April; 33(2): 555-560.

WY Leung, WL Tsang,Conventional muscle-reflection approach versus mini-incision muscle-splitting approach in dynamic hip screw fixation, Journal of Orthopaedic Surgery 2008;16(2):156-61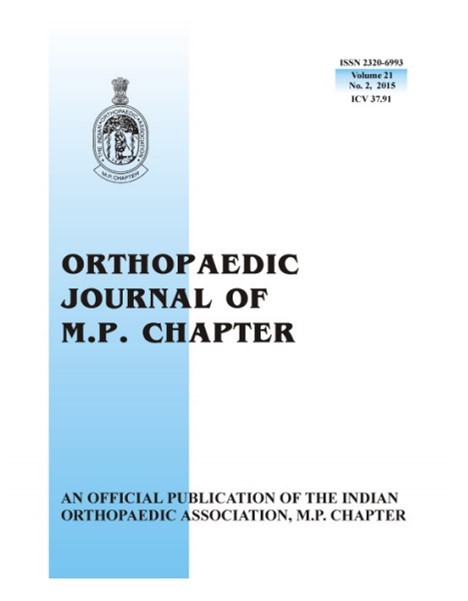 How to Cite
1.
Dhakad R.K.S., Kapoor A., Gupta S. A comparative study of fixation of fracture intertrochanteric femur with d.h.s. by m.i.s. versus conventional muscle reflection surgical approach. ojmpc [Internet]. 2015Dec.31 [cited 2023Dec.7];21(2):50-6. Available from: https://ojmpc.com/index.php/ojmpc/article/view/13